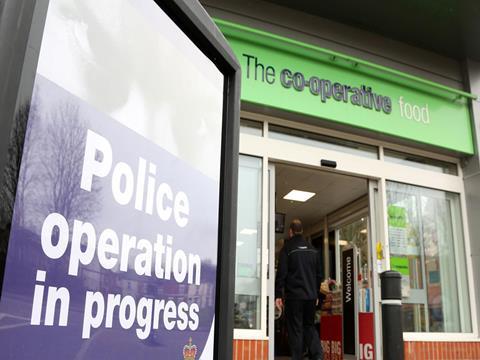 Central England Co-operative has introduced a raft of new security measures in its food stores.

Following a security review, the society is adding specialist tracking devices to a range of items from cigarettes to ATMs to allow the police to be led directly to criminals. The co-op is also adopting a centrally monitored CCTV system that allows colleagues to call for assistance at the touch of a button. It will change its closing times and review the way security guards are used.

The retailer's loss prevention team has also been working with ATM provider Cardtronics to implement additional security measures to prevent the internal safe from opening if gas or explosives are used.

"We are aware that incidents such as robberies and ATM thefts are frightening for store colleagues, who are our first priority," said Central England Co-op loss prevention advisor Craig Goldie.

"We are doing everything we can to prevent incidents like this from happening, but if something does happen we offer them support and counselling both from within our business and specialists.

"Now we have put in place new and improved tools to work with the police and partners to help bring the perpetrators to justice.
"We want our message to be clear - it is not worth the risk to target Central England Co-operative food stores and we are doing everything in our power to combat crime in our communities and keep people safe when they shop."

The central monitoring system allows colleagues to press a button to alert a special control room. Staff there will then be able to watch what is happening on CCTV and call for immediate assistance from the emergency services if required.

External motion detectors have also been installed outside stores and will be activated outside trading hours. When activated they will switch on CCTV cameras that will allow specially trained camera operatives to monitor the situation and act if necessary.