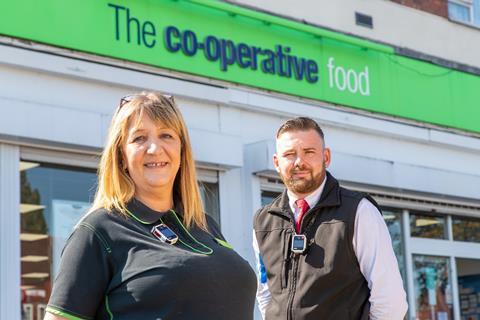 Central England Co-op is trialling staff bodycams in two of its stores in a bid to tackle retail crime.
Following in the footsteps of the Co-op and Waitrose, the society has begun the trial in its Erdington and Great Barr stores and expects it to last between six and eight weeks.
If successful, the cameras could be rolled out across its other stores to deter threats and acts of violence towards colleagues and security guards.
The retailer said assaults towards staff had jumped by 100% since the start of the year, with threats and intimidation up 25% and verbal abuse up 175%.
The society is among convenience retailers lobbying the government for changes to legislation to better protect shopworkers from crime.
"We are aware that any kind of crime can be frightening for store colleagues," said Central England Co-op loss prevention advisor Nicola Walton.
"We are doing everything we can to prevent incidents like this from happening, but if something does happen we offer them support and counselling both from within our business and from specialists.
"We work closely with police forces across the 16 counties in which we trade in order to protect our colleagues, customers and communities.
"Over the past few years we have invested heavily in a range of measures to keep our colleagues and customers safe from centrally monitored CCTV systems that can be activated at the touch of a button to increased numbers of security guards.
"We are always looking at further ways we can deter would-be criminals and this is why we have launched this bodycam trial in two stores in the West Midlands.
"We are looking forward to seeing the results and hopeful it will provide another tool in our zero-tolerance approach to any type of crime towards our colleagues and customers."