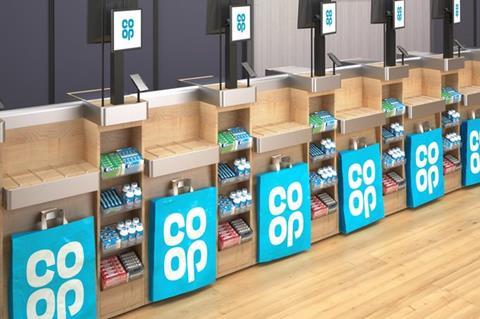 Convenience store growth has been "turbocharged" by the coronavirus lockdown as consumers seek comfort in retro favourites and return to the shopping habits of the 1970s, according to a Covid-19 trends report by the Co-op.
Co-op, the largest player in the convenience sector, achieved a market share of 7.2% during the past 12 weeks, the highest since 2001 and up from 6.4% a year earlier, latest Kantar data revealed this morning. Sales at the chain also increased 30.6% year on year to £2.3bn as customers opted to shop in smaller local stores.
Independent c-stores, including Spar, Nisa and Premier symbol retailers, grew sales by 59.5% in the 12-week period.
Convenience stores raked in 47% of the £49bn spent on groceries, tobacco and general merchandise during the 16 weeks of lockdown as a result of changing consumer shopping habits, Nielsen also reported today.
The 'Covid-19 convenience shopping and at-home cooking' report from Co-op found a quarter of the nation had shopped more in convenience stores since the start of March, with 64% set to continue to do so.
Lockdown "turbocharged" a pre-coronavirus growth trend in planned top-up shopping as consumers turned to convenience for main and planned top-up shopping, which accounted for 22% of all convenience trips in 2020, the report said.
More than half (56%) of households have shopped in a convenience store during lockdown and the bigger baskets for each of these transactions is driving half of the channel's growth. And more than 60% worry about going to the shops, causing more to stay local.
As shopping priorities shifted during the lockdown, consumers were shopping for food to last 10 days, compared with three days prior to the outbreak, resulting in a significant spike in volumes of store cupboard essentials.
The Co-op report revealed a 638% increase in tinned fish, a 175% sales rise of dried pulses and grains, and a 72% jump in tinned soup sales.
Shoppers were also making more trips to the frozen aisle, with the Co-op frozen ranges registering the largest increase in volume during the lockdown. The data from the report showed 36% of shoppers were keeping their freezers well stocked and 23% planned to continue to do so after lockdown.
Brits also turned to nostalgic, quick-fix, packet desserts while stuck at home. This resurgence saw a 738% sales increase in dried trifle and 336% increase in custard powder.
"With an increase in at-home dining occasions during lockdown, customers turned to traditional recipes and pub classics to keep them comforted during the uncertain times," said Co-op commercial director Matt Hood. "We've noticed that shoppers purchased six times as much fresh meat, with pork and beef seeing the biggest uplift, as we know households were spending more time cooking from scratch.
"Packet mixes such as instant mashed potato, trifle and custard, as well as canned meats and fish and even pickled onions also sold really well, as it looks like some consumers adopted habits similar to those of the 1970s."
Food psychologist Dr Christy Fergusson added: "During a time when people haven't been able to spend time with family and friends, it's no surprise they have been trying to recreate those feelings of comfort, relaxation and joy through their meals. For many, recreating their favourite pub meals will signify comfort and familiarity in a time when life has felt uncertain and stressful.
"And the taste of food can also trigger associative memories so could explain why Brits have been turning to nostalgic desserts such as packet trifle and custard, which may remind them of fond childhood times with family and friends."
The Co-op research showed households have reignited a love for cooking, with a third of the nation (33%) now finding more enjoyment when in the kitchen, compared with pre-lockdown.
The report indicated 76% of the nation had cooked a traditional-style dish during lockdown, with sausage & mash being the most popular meal.
Traditional British cooking was the most popular cuisine throughout lockdown (31%), followed by Italian (24%) and Indian (8%). The report also showed 37% of the nation had revisited dishes from their childhood during lockdown.
More than 40% were cooking from scratch more and 32% think this will continue post-lockdown.
A rise in scratch cooking led to shoppers buying six times as much fresh meat, with pork (690% sales increase) and beef (519% increase) being the favourites.
In terms of food waste, 51% reported they wasted less food under lockdown and 45% said they were set to continue this behaviour post-lockdown.
The closure of pubs and restaurants, which normally account for 50% of beer and cider volumes, created a significant impact across the whole alcohol industry. To meet demand, grocery retailers picked up 45% of this lost volume in a bid to also reallocate products destined for pubs. At Co-op, sales of packs of 15 tins or more grew by more than 1,000% year on year.
Biggest-selling convenience ready meals at Co-op during lockdown:
Chicken tikka masala & pilau rice
Cottage pie
Macaroni cheese
Beef lasagne
Chicken korma & pilau rice
Top scratch cooking traditional meals made at home during lockdown:
Sausage & mash
Chicken curry
Cottage pie
Beef lasagne
Cod, chips & peas
The UK convenience retail market is set to grow 8% to £44.7bn in 2020 – an increase on the 2.6% rise in 2019. Growth of the channel, along with online, discounters and bargain stores, has outpaced the market in the past decade.