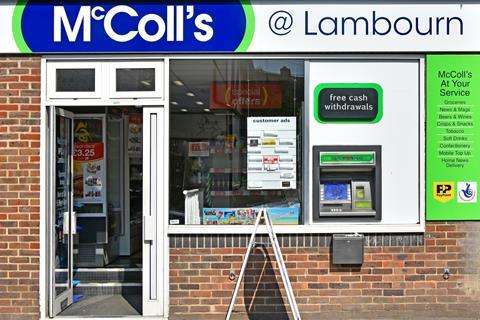 Drops in interchange fees and an increasingly cashless society are making free ATM services less profitable for convenience retailers, The Grocer has learned.
According to the UK's largest ATM network Link, the interchange fee paid by banks so customers can access the ATM network for free is 6.4% lower than it was five years ago, at 26.5p per cash withdrawal. Link sets the fee amount.
It covers elements including a retailer's commission, meaning there is less money being paid to them for accommodating ATMs. The decline would also feel "significantly lower" in real terms over that period "once you factor in inflation", the Association of Convenience Stores pointed out.
Link's data also showed the number of transactions has dropped by 43.1% to 132 million from May 2019 to May 2023. With a retailer's commission also based on the number of transactions per ATM, this is also affecting income levels.
One Premier retailer said his store's ATM transactions had dropped by around 70% to 45 a day, with a 15p payment per transaction.
Described now as a "waste of space", he said insurance to cover the machine was also burdening him, with his premium doubling over the past three years because ATMs were becoming a "security hazard in stores".
"I just want to get rid of it as soon as possible," he said.
The interchange fee also covers the general upkeep of the machine, including repairs. The ACS said, however, that the cost of operating an ATM was increasing due to interest rates, making maintenance more expensive for ATM operators as the interchange fee went down.
The trade body warned this was seeing many free-to-use machines move to a chargeable model or being removed altogether – a decision enforced by an ATM operator, such as PayPoint or Cardtronics – which was taking away a vital service that retailers provide to the community.
In April, for example, operator Note Machine claimed it was being forced to convert over 1,000 free-to-use machines to pay-to-use by July due to "legislative failure to protect funding".
"Cash is still an incredibly important payment method for millions of people in the UK and is used by many customers as a way of managing their money," said ACS CEO James Lowman.
"Convenience stores play a vital role in providing customers with access to their cash but this is becoming increasingly unsustainable for local shops and many members have told us that they are being forced to switch from free-to-use to charged ATMs."
ACS's 2022 Local Shop Report highlighted the important role that convenience stores continued to play in promoting financial inclusion in their communities, with 44% of stores offering free-to-use ATMs, 18% offering charged ATMs, and 69% providing cashback.
Link director of strategy Graham Mott told The Grocer its priority was to maintain free access to cash across the UK.
"Link's key objective is to maintain a broad distribution for free access to cash so consumers can get their cash when they need it and for free," he said.
"Our evidence is that in most cases this remains good and while there have been some reductions in ATM numbers, in most cases this is not an issue, for example removing one or two ATMs from the three which were outside a supermarket or locations with lots of ATMs like some shopping centres, high streets and railway stations and where plenty of ATMs remain.
"However, Link carefully monitors the network and if a "last ATM in town" is removed Link will work to replace it and ATMs that are more than 1km from another free machine, then the interchange may be subsidised or protected and doesn't change."