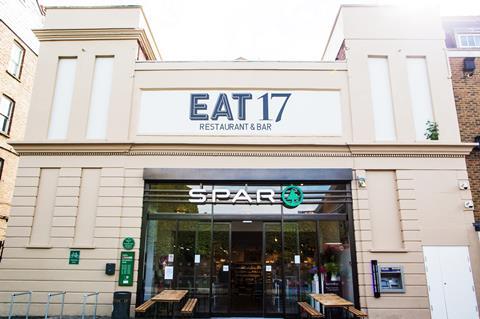 Potential franchisees looking to partner with Eat 17 could earn profits of almost £200,000 in their first year, according to its new licence prospectus.
The prospectus provides the earnings potential for franchisees over their first three years. It estimates profits for year one of £198,728, rising to £272,702 in the second year and hitting £343,555 at the end of year three.
The retailer emphasised that these were what it called conservative estimates that it would expect to beat by 50% given the right location and retailer.
Eat 17 said set-up costs for retailers would be around £250,000 along with a licence cost of just under £20,000.
It said retailers could expect margins of 35% to 38%, as well as up to a 5% rebate on fresh lines. Another key selling point would be access to 400 exclusive Eat 17 produced lines. These included a 100-strong range of sandwiches, salads and wraps, made daily in its production kitchen.
Franchisees will also have the opportunity to sell high-welfare Eat 17 meats, as well as its own-brand chocolate, which launched in October last year, made in its chocolate factory in Bishop's Stortford, Hertfordshire.
Other key elements of the licence package include help with store design, a central website, full training in all areas of the business, regular business updates, a social media set-up, and branded uniforms.
"We're being selective with retailers because we're going to be investing a lot of our own time and key members of staff in planning and helping the retailer set up," said Eat 17 co-owner James Brundle.
"But they've also got to be suitable for Eat 17 too, and the right kind of calibre.
"We just want to do things differently, as we always have, so if a retailer is coming on board with us, we want them to stand out from what everyone else is currently offering."