Address: Church Road, Aldershot, GU11 3PS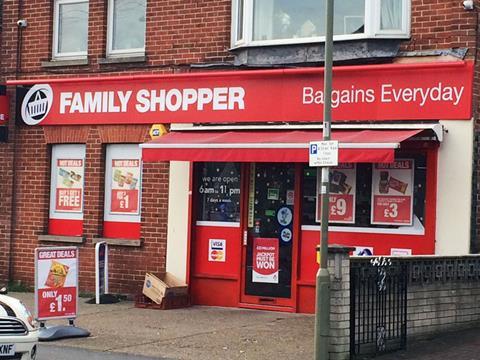 Deceptively spacious, this Family Shopper stood out in residential Aldershot thanks to its pillarbox red branding, a welcome boost to its profile given the Londis and One Stop stores competing for custom only minutes away.
The symbol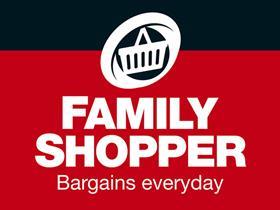 This Booker owned fascia is a "new discount format for independent retailers that brings together the strength of symbol retailing with the great value available in the discount channel."
Specifically developed to "help independent retailers capture the growing sales and profits from the discount sector" a key feature of Family Shopper is "long-term deals, which offer the consumer a true 'Bargain Everyday'."
Family Shopper adds that its "unique discount format provides retailers with everything shoppers would expect from a convenience store.
This is then combined with the best of the discounters covering a fantastic range of £1 non-food items such as kitchen utensils and party accessories, with a broad seasonal offering and a frozen section.
And being part of Booker Group means retailers have access to a wide range of additional services such as recycling, energy savings, free EPoS and drop shipment to add value and keep costs low."
With its neat and tidy shop floor and wide aisles, the store was easy to navigate and stocked all the ambient essentials alongside a big booze selection and decent chilled range, though a shepherd's pie had to substitute for lasagne, and only larger PG Tips SKUs were available. Promoted items were given prime space, with metres of shelves carrying heavily discounted coffee, cereal and crisps on display as soon as you walked in the store – and a leaflet listing all those extra deals you missed out on handed to customers with their shopping bags.
Service was extremely helpful, with the cashier heading out to the stockroom to rifle through boxes for PG Tips, offering to hold the door open, and making friendly small talk while he bagged up the shop. Unfortunately, that good mood was soured when the non-branded white plastic bag handles unceremoniously split en route back to the car, sending the bottle of Blossom Hill sprawling.
---
FOOD TO GO OFFER 2/5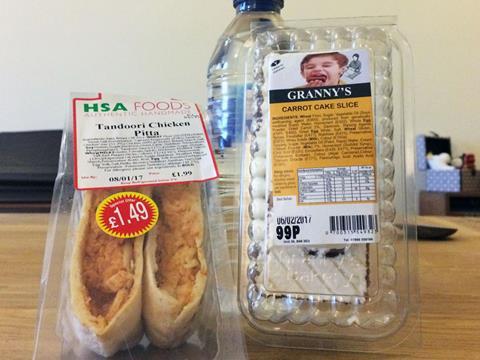 Perhaps understandable given its residential location, this store clearly doesn't focus on a food to go offer. Despite visiting bang on lunchtime at 1pm, only two or three sandwiches remained in its chilled food-to-go section (tucked away near the back of the store, too) including this Tandoori Chicken Pitta (£1.49). Fortunately, a few sweet snack options were stocked nearby, as well as bogstandard crisps and chocolate, including a slice of Granny's Carrot Cake (99p). A bottle of spring water (50p) finished the trio.
Fascia Face-off Part 1: Putting fascias to the test
1

2

3

4

5

Currently reading

Family Shopper, Aldershot

6

7

8

9

10

11

12