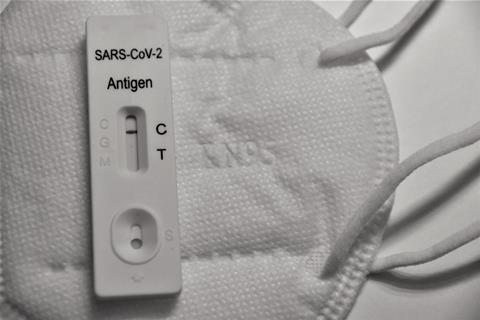 The government is pushing for more convenience stores to engage with its community Covid-19 testing programme.
The Grocer understands the government is currently ramping up its capacity to offer the lateral-flow rapid testing scheme, with the aim of covering all local authority areas in England by the end of this month.
Defra officials told senior food and drink leaders this week the expansion plans were aimed at ensuring employees of businesses with fewer than 50 employees who cannot work from home could be regularly tested, with convenience stores cited as an example.
So far 46,000 asymptomatic cases of the virus have been detected from the 2.5 million lateral flow tests carried out by councils in England.
Association of Convenience Stores CEO James Lowman said the trade body supported the government's plans, but that they needed to go further, faster.
Read more:
"This rollout is very good news, but it can't stop there," said Lowman. "Testing sites need to be easily accessible for colleagues, almost half of which walk to work. It would be counterproductive for retailers to ask staff to use public transport in order to get a test. The journey itself could put individuals at risk. It's important that we make sure community testing is readily accessible, more convenient and usable, therefore it is likely there's a need for many community testing sites in each local authority area."
The trade association is continuing to work with the Department of Health and Defra on this issue and has advised members to check local authority websites to locate their nearest testing facility.
The Grocer reported last week One Stop retailer Sophie Towers was one of the first convenience retailers to be ensuring all members of staff were being routinely tested.
Ten employees at the Burnley-based store are required to go to the local community testing site every four days and produce negative tests before returning to work.
The move by DH follows Tesco's announcement that it will roll out mass testing of its supermarket staff "every few days". The UK's largest supermarket is also considering carrying out trials of home testing kits in order to protect its workforce from positive asymptomatic cases.