Local c-stores have enjoyed a boost during the coronavirus. As lockdown eases (and recession looms), how can they make sure they retain those customers?
Good news stories have been few and far between since the coronavirus, but one of these has to be the sales boost for the beleaguered convenience store sector.
Excluding notable exceptions such as stores in busy city centres, transit hubs and a number of forecourts, c-stores have enjoyed an influx of new customers. That's included shoppers looking for alternatives after supermarket shelves were initially stripped bare by stockpiling, and latterly shoppers who turned to their local store to avoid long queues and to shop somewhere smaller and quieter.
The trick now for convenience retailers is to hold on to their new customers long term. So how do they convert these "lifeline shoppers into lifetime customers", as Costcutter CEO Darcy Willson-Rymer recently put it?
It won't be easy, warns Parfetts retail director Guy Swindell. "This is their moment in the sun. After working so hard for years they have earned every bit of this, but they will all need to work hard to capitalise on it now," he says.
"After working so hard for years they have earned every bit of this, but they will all need to work hard to capitalise on it now"
This work will primarily be on ranging, pricing and offering a strong promotional mix. In terms of ranging this has been a particularly difficult task – the wholesale and convenience sector faced weeks of uncertainty around availability as suppliers rationalised ranges in the wake of March's stockpiling frenzy, culling many price-marked packs, hitherto the bread and butter of the convenience sector, in the process.
It wasn't just availability that was suddenly disrupted, though – many c-store customers' needs changed overnight. Rather than impulse-driven food to go products, locked-down customers were looking to service a far more traditional grocery shopping mission. This meant increased ambient grocery, household and personal care ranges, bigger pack sizes and ironically more fresh produce – a mantra wholesalers, buying groups and symbol operators have been pushing for years, but which many retailers have remained circumspect over due to high levels of wastage.
JW Filshill retail sales director Craig Brown says it has shifted to advising retailers on a new 'core and more' strategy. "Convenience is attracting shoppers who would normally shop in the multiples just now as they deem the local store to be safer and without lengthy queues," he says. "We're bringing in more bigger packs that offer good value," he says. "This is something we have always done as some of our retailers demand it – what we're ramping it up particularly for our KeyStore customers who want an extended core range in bigger packs.
"Our retailers have done a really good job of looking after their customers and welcoming new ones during the Covid-19 crisis, so we'll continue to work with them to get the message across that shoppers can feel safe in their stores, get great service and also the products they would normally buy in the supermarkets."
"Lots of opportunities present themselves with the new demographics"
As well as providing a core range, Unitas Wholesale sales and marketing director John Kinney agrees that the 'more' will be vital in retaining loyalty as greater normality returns to our lives.
"Lots of opportunities present themselves with the new demographics," he says. "This is an opportunity to try different things and make the store interesting. Independents don't have the breadth of range, so versatility is key. Don't get boring as a small shop. Mix it up."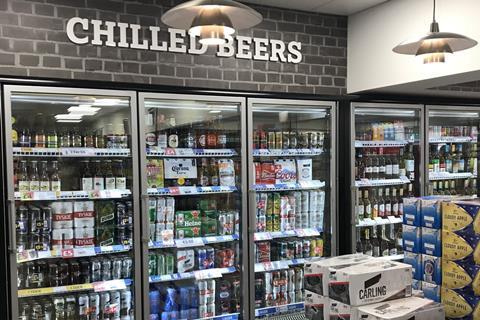 One of the biggest category impacts of the crisis has been in BWS. For years convenience stores moved away from large packs of beer and cider to smaller and individual packs they could sell chilled to customers on the way home from work or as they went to meet friends. But with the hospitality sector only just tentatively opening up this week, there has been a marked shift in where people enjoy a drink and where they buy it.
This trend is set to continue even as lockdown eases, suggests Bestway Wholesale MD Dawood Pervez. "As young adults have been unable to go out and socialise, they've enjoyed 'big nights in' consisting of socialising online, which led to an increase in alcohol sales," he says. "Our customers saw a spike in demand for multipacks of beer, cider, soft drinks, crisps and snacks for at-home consumption. Until government guidelines are fully relaxed, we expect demand to remain high."
Data
Convenience operators are also looking to harness as much data as possible regarding changing shopper needs, and are sharing this quickly with retailers. "Our marketing, trading and proposition teams are constantly reviewing customer data and insight," says Louis Drake, sales director at Blakemore Trade Partners. "In-depth data analysis has led to a redefinition of our soft drinks category better focused around the current customer shopping missions.
"Our data suggests Covid has led to a slight increase in the more affluent male shopper, shopping for his family on a making a meal mission," notes Louis Drake, sales director at Blakemore Trade Partners. "Our produce and fresh meat sales have increased by over 85% and we're seeing many stores move from the traditional grocery categories into more fresh-based purchases."
Costcutter retail director Mike Hollis says its Shopper First insight programme has been invaluable in helping retailers tailor the right ranges.
"Product range requirements were obviously unique to each of our independent retailers' stores, but we were able to share national trends and the results and best practice of individual retailers to ensure we responded to changing shopper needs. We saw an initial emphasis on everyday essentials and fresh food and this has continued, but we have also now seen more demand for BWS, meal inspirations and cooking ingredients.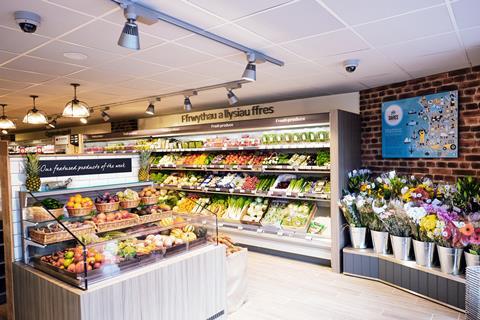 "Our Shopper First: Drive Five to Thrive insights programme is crucial, providing vital guidance on categories and trends, helping participating stores to focus on the right range and offer with an emphasis on fresh foods.
"We're also planning the rollout of a predictive analysis tool, which will help our retailers select the best product ranges and promotions for their shoppers, tailored to store type, location and demographics."
Promotions are also set to play a key part in helping c-stores hang on to newfound shoppers. While some wholesalers and symbols temporarily paused activity, this is largely back up to speed, albeit with a few tweaks changes to the communication.
"We've tried to do it in a pragmatic way of if you have the right ranges and the right activity and the right retailers that should naturally mean that customers will want to return, Our promotional programme is back up and running and we've adapted some communications to make sure it's relevant," says Spar UK MD Louise Hoste.
"Some promotions we've changed, but in the main they'll stay the same, we've just changed communications. Our focus is how do we make sure we deliver value and that it's on the right products that are actually relevant to how people are now living."
Pricing
That could be set for a further shake-up, with widespread job losses and serious economic woes predicted. It's likely to become harder for c-stores to prevent customers heading back to the perceived value of the major multiples and discounters, with the latest tracking research this week from CACI/Location Sciences already showing a 7% swing back from convenience stores to supermarkets since the lockdown was relaxed among financially constrained shoppers.
"We haven't waited for the recession, we've acknowledged that for a lot of people times are already tough and value is imperative to them as they look to shop closer to home," says Blakemore's Drake. "We have made significant investment in a KVI programme, which we launched over a month ago to offer real value to our customers on products that form a big part of their weekly shop including produce, eggs, bread and flour. We've accompanied this with some strong promotional activity on produce lines that give market-leading value on some larger pack produce. Our Country Bridge range offers customers fantastic value on the protein meal centre, and caters for individual portions through to large family packs. This has proved incredibly successful in our company owned stores and we're now rolling out into our independent estate."
Bestway's Pervez is also looking closely at pricing. "As the UK faces a recession, retailers will be looking for the best prices to pass onto their customers. We'll play our part ensuring we offer competitive regular deals, a great offering for collect customers and our team at Bestway are on hand to assist retailers with a recommended range to help them offer value to their customers at a time when they are inevitably going to be looking at cutting down on their outgoings. It's important retailers now more than ever offer an own label as well as the brand leader, giving the consumer choices."
Remaining competitive on price is likely to be a real challenge for the sector, with Tesco already spoiling for a price war with the discounters. But right now there appears to be more opportunities than threats for many c-store operators, with CACI's research actually showing a 5% increase in traffic in the same period among more affluent demographics. And the biggest threat could be retailers taking their eyes off the ball, warns John Kinney. "It's really important retailers don't let their guard down and allow complacency creep in. This is an opportunity for a resurgence in indie retail."
Young and impulsive
Lockdown has not only forced retailers to up their game in terms of stocking, but also to consider the offering they have, particularly as younger shoppers have been using the channel more often.
Shopper insights experts Him MCA found that in May 2020, 18 to 24-year-olds were 19% more likely to visit a c-store than in March 2020 when the UK lockdown began. Those aged 25 to 34 were 7% more likely to do so while 35 to 54-year-olds were 5% more likely. In contrast, 55 to 74-year-olds were 16% less likely to visit a c-store in May while the over-75s were 28% less likely.
Alice Dolling, senior insights manager at Him MCA, believes "an increase in the number of younger shoppers is positive for the channel, because gaining their loyalty and custom builds a new layer of security about the long-run channel growth."
She urges convenience retailers to cater to the missions these younger shoppers are trying to fulfil. "Whether these shoppers stick around post-lockdown and maintain their higher frequency levels will be dependent on how well convenience stores adapt to the types of shops younger shoppers are on, and also how well they deliver on the main things that drive younger shoppers into store."
The Him research shows that of the 18 to 24 demographic, 23% are more likely to be on a food to go mission and 12% more likely to be on a treat mission. Technology also plays a part: 18 to 34-year-olds overindex on being driven into a certain store due to the payment technology available, such as self-serve tills and contactless.
She also believes the key opportunity for younger shoppers lies with impulse purchasing. Him MCA'S research found 25 to 44-year-olds are significantly more likely to purchase on impulse due to 'I saw it and was tempted'.
This highlights the importance of in-store theatre when driving impulsivity, she notes, adding that 18 to 24-year-olds are more likely to impulse purchase due to promotions and round pound pricing mechanics.