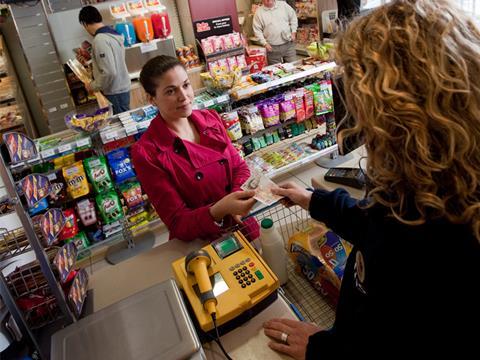 Independent retailers have crossed swords with PayPoint over its terms and conditions in what the National Federation of Retail Newsagents called "despicable and deplorable" transaction fee reductions that come into effect next week.

The NFRN this week made a formal complaint to the Payment Systems Regulator, calling for a full market investigation into the over-the-counter payment and collection services market.

It has also left open the ultimate option of a submission to the Competition and Markets Authority.

The NFRN initially focused its angst on free reductions, but a senior competition counsel advised the organisation to widen the scope of its complaint to include all of its terms and conditions of business and not just the specific issue of reduced commission caps.

Indies, meanwhile, have also rallied round by backing a #PayPointPayFair campaign on Twitter.

PayPoint, which competes with Payzone, Epay and the Post Office in the UK payments market, plans to slash the 'cap' on retailers' commissions from 13p per transaction to 10p for general bill payments, and to 7p for pre-pay energy, TV licence payments and transport smart cards from Monday (18 May).

PayPoint head of corporate affairs Peter Brooker said only about a quarter of all transactions would be affected by the changes, and that parking, calling cards, Health Lottery and CollectPlus transactions would be unaffected.

He explained the company paid, in general, 0.5% of each transaction value as commission to retailers. So a transaction with an average value of £12 would pay a commission of 6p.

Brooker said the cap reductions had been introduced because of market conditions. "This is not a monopoly. It's a competitive market. The Post Office, which receives a massive subsidy, is known to be bidding for contracts at a much lower level than they were previously accepting and Payzone is hugely undercutting and we believe coming in at cost."

But NRFN chief executive Paul Baxter insisted the reduction was "tantamount to exploitation".

Newsagents have also taken a stand. Marcus Bergin, who owns SuperNews, in Gloucester, has asked his PayPoint customers to make extra shop purchases when using the service because he would otherwise make a loss when all overheads are factored in.

Nisa Local Village Stores in Mickleton, Gloucestershire, meanwhile, has displayed an in-store notice explaining to customers that it will only process PayPoint transactions three days a week, and turn off its terminal during busy times in protest.

The Scottish Grocers Federation and Payzone are also jointly in talks with several banks to devise a range of "discounted" services.

Peter Cheema, chief executive of the SGF, said: "PayPoint is one of a range of vital services independent retailers offer to local communities. I am hoping to finalise a package of services for SGF members, both with PayPoint and one of the banks, in the very near future."

Meanwhile, PayPoint has expressed its surprise at reports wrongly linking recent management announcements with reaction to commission changes.

"The reports are inaccurate and we would like to clear up any confusion. PayPoint remains committed to delivering market leading propositions to our retailers," Brooker said.

He confirmed PayPoint managing director Seamus Smith wrote to "retail partners" to explain he had accepted a new senior position in a FTSE 100 business and would be leaving shortly. Retail director Andrew Goddard was still "working actively" in his senior role with PayPoint but had plans to move on at a later date, so this had not been previously announced outside the company.

"Neither of these developments is in any way related to our commission policies," Brooker said.

He added that last week, "again wholly unrelated", PayPoint reported a change in chairmanship to the stock market, which saw the departure of Warren Tucker.