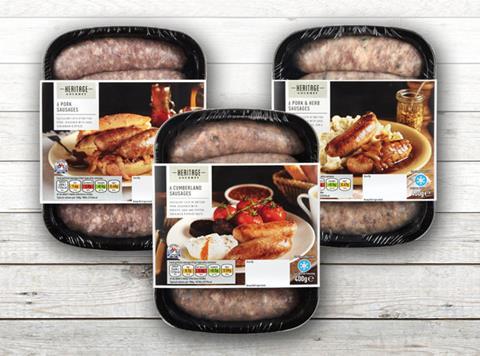 Nisa has proclaimed its rebrand of its own-label Heritage range a success, with products – including poultry – "flying off the shelves".
The range has notched up £1.4m extra sales to retailers since undergoing the revamp in June last year compared with the same period the previous years, according to the group.
Sausages were among the strongest categories with value sales to members up 66%, with cooked meats at 35% and poultry 33%.
Ian Bishop, Nisa marketing director, said: "We are proud of our newly formulated own-label range, with the recent figures proving that the products are flying off the shelves."
He attributed this to flavour and hard-hitting, easy-to-read packaging.
Heritage ready meals were also performing "exceptionally well". The Heritage Chicken Tikka two for £5 meal was the top-selling SKU and the Heritage Lasagne and Heritage Cottage Pie, two for £4.50, were other top-sellers.
"So far we have transformed over 500 lines and by the summer we will have overhauled 300 more lines," Bishop said.