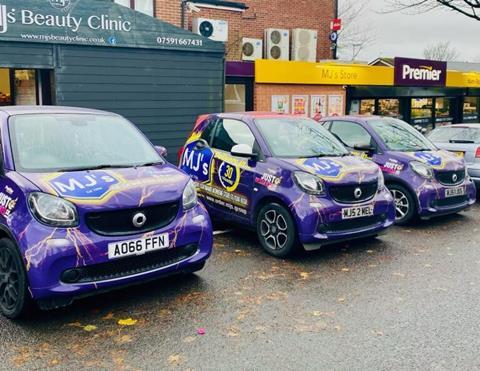 Premier retailer Justin Whittaker has seen turnover surge by 45% a week after switching its food-to-go offer to a delivered takeaway model.
Whittaker's MJ's Store in Oldham has diversified away from food to go as a result of the pandemic.
Social distancing resulted in footfall being capped at four customers in-store at any one time. This made its popular dessert bar unviable under those conditions due to the 20-minute waiting times.
Meanwhile sales of bacon sandwiches plummeted as nearby construction sites were closed.
"We are light of foot and aren't ones to stand still. If something isn't working we will change it. And we needed to change how we sold our hot food offer," Whittaker told The Grocer.
The retailer created a menu of 20 items including chicken nuggets, curly fries, pies, bacon sandwiches and pizza.
The new offer was marketed using social media and a fleet of branded vehicles was purchased to meet demand consisting of a new truck and three smart cars.
Basket spend has jumped from an average of £8 to £30 with sales on a Saturday evening doubling compared to February 2020.
Whittaker said it is not just the hot food offer that has impacted its sales.
"Customers shopping with us online have been ordering in bulk – 24-packs of Pepsi Max, six-packs of waters, nine-packs of loo rolls. It's a very different need to the customers buying in-store," he added.
In order to accommodate this growing trend toward bulk items, Whittaker has opened a dark store utilising his wife's shuttered beauty business next door to MJ's.
The retailer confirmed dark stores will be the future of MJ's expansion as it focuses on building its online business.