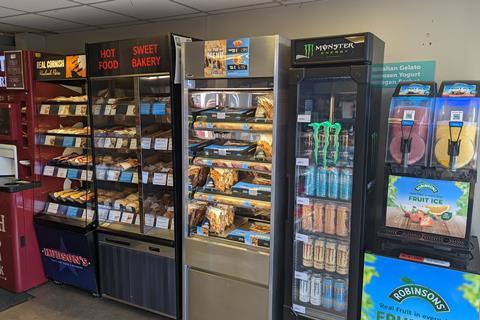 The Radstock Co-op has seen sales double over the past three months as it capitalises on the 'big night in' with its Chicago Town Pizza To Go offer.
The society first introduced the pizza-to-go service last April across two stores, before starting a wider rollout four weeks later across its 14-strong estate. The aim was to ensure a "hassle-free" mealtime for shoppers by selling 12-inch Chicago Town pizzas in takeaway boxes. The service also offers pizza by the slice in a bid to also target audiences with a quick lunch mission.
It said hot food sales soared by 20%, with access to Chicago Town's various flavours including: Loaded Cheese, Loaded Pepperoni, Chicken & Bacon and Magnificent Meat Feast, and two new vegan options BBQ Jackfruit and Bacon & Mushroom, being a key selling point.
The business explained, however, that the service has put it in a greater position to target the 'big night in' occassion as consumers opt to stay home in light of the cost of living crisis.
"We were looking for something easy for the staff to handle and delicious at the same time," said Radstock Co-op head of retail operations Alan Jackson. "The great quality and variety stood out to us, and that's why we chose Chicago Town."
"The big night in occasion is massive for us, with customers opting to treat themselves for less under their own roof, it was vital for us to provide. Chicago Town has helped us capitalise on this, with business sales already doubling in the last three months."
"I would certainly recommend it to anybody who is serious about getting into a wider range of a hot food offer."
The pizzas are delivered frozen to stores, with each one being prepared, cooked, bagged and put on sale in 15 minutes. They can either be presented in the retailer's own heated cabinet or in a Chicago Town branded one which can be purchased via Nisbets. The society said this allows it to store and utilise pizza in reaction to demand.
Chicago Town senior brand manager Richard Cooper said: "It's great to see the partnership with Co-op working so successfully, with customers being able to make the most of their big night in. You don't often see pizza being served well as an on-the-go solution, with many operators struggling to hold it beyond one hour. Our pizza performs well in hot hold cabinets, holding for up to three hours using Chicago Town's self-serve packaging."
"Branded point of sale material and packaging has helped to make food a real destination in-store, making it difficult for the customers to miss. Co-op has also reported on impressive month-on-month sales with excellent customer feedback and repeat purchases of the Chicago Town food-to-go offering."