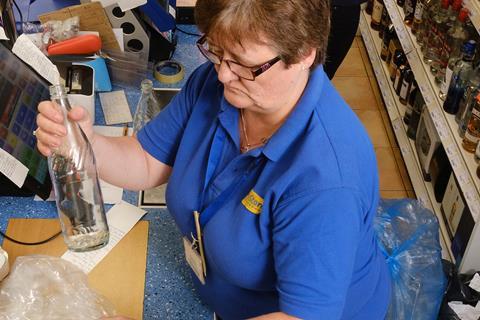 The Scottish government has confirmed that thousands of smaller retailers will be able to opt out of the UK's first deposit return scheme.
Industry bodies welcomed the move and are now urging ministers in the rest of the UK to follow Scotland's example, which would see the scale of DRS drastically reduced.
The Grocer revealed last month that Scottish Green minister Lorna Slater was planning major concessions amid fears over the huge cost and lack of readiness for the rollout due to go ahead on 16 August next year.
Under new guidance, the Scottish government has indicated exemptions are likely to be granted for retailers whose stores are below a certain threshold.
Retailers with a footprint below 25 sq m would be automatically excluded on application. Retailers below 100 sq m are likely to be excluded on environmental health grounds if they submit applications, as will food-to-go retailers below 280 sq m in size.
Industry insiders have told The Grocer the reduction in the scale of the proposals could see the number of manual return points and reverse vending machines fall from 30,000 to nearer 10,000.
Slater has also indicated she plans to make further changes. Sources say it could see online operators excluded from the scheme, apart from a handful of major retailers.
Circularity Scotland, the organisation of retailers and suppliers that will administer the scheme, described the new guidance as a massive relief for thousands of smaller retailers.
"The new guidance will make the process of applying for exemptions clearer, easier and quicker for retailers and will significantly reduce the operational burden of the scheme for a large number of hard-pressed smaller retail outlets in these particularly challenging times," said a Circularity Scotland spokesman.
"The likely change in the number and profile of return points across Scotland is also expected to reduce vehicle miles for collection and contribute to a significantly more environmentally efficient scheme.
"Crucially, the guidance includes the introduction of a new return point mapping and exemption support service to help retailers identify alternative return points without having to share commercially sensitive information with other retailers.
"In addition, the new guidance clarifies the criteria for environmental health exemptions and the introduction of streamlined evidence and assessment processes to better take into account the challenges facing specialist, foodservice and hospitality retailers.
"We also welcome the minister's indication that she is considering industry's concerns around online takeback and her commitment to provide further detail on this in the coming weeks."
ACS CEO James Lowman also welcomed the move and said the industry group was now urging the Westminster government to take a similar approach to DRS, focusing on larger retailers.
"This is a welcome step forward towards a workable deposit return scheme in Scotland," said Lowman. "We will work with our members to help them consider whether to seek an exemption or to make their store a return point. This will be a site-by-site decision and this new guidance makes it more likely that the right shops will act as return points in the scheme.
"The UK, Welsh and Northern Ireland governments should note the challenges that Scotland is experiencing in using an exemptions system to define a workable and economically viable network of return points. We need solutions now on how to map the right network of return points to meet our common objective of an effective deposit return scheme operating throughout the UK."
The announcement comes with the Scottish government facing judicial review proceedings, launched by convenience store retailer Abdul Majid and backed by the Scottish Grocer's Federation.