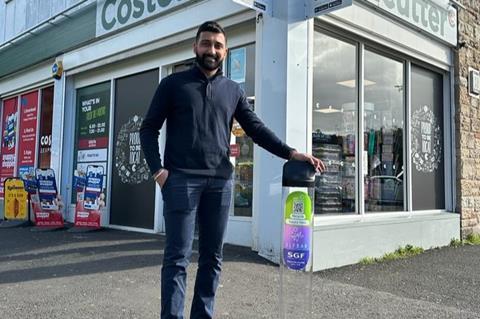 The Scottish Grocers' Federation has teamed up with ElfBar to roll out a fully funded recycling programme for used disposable vapes across convenience stores.
The pilot, which will see a vape bin preferably placed behind the counter as a return point, has launched at Costcutter retailer Anand Cheema's 'Fresh in Falkirk' convenience store.
It marks the first step of a long-term programme that has been designed to ensure raw materials, including plastics and the battery, are properly dismantled and recycled as part of ElfBar's commitment to deliver a closed-loop recycling system by 2025.
With 20 other SGF member stores set to join the pilot this year, those participating will have their used vapes in recycling bins collected by Recover, a UK lithium battery recycling company, fortnightly. SGF said it would be monitoring the rate of return closely during the trial period.
Retailers are also advised to check with their respective insurer about where to position and store the used vape bin. As a guide, vapes should be collected and stored separately from other small electronic equipment and batteries in a cool, dry place.
"I am delighted to participate in the pilot programme and to be able to offer my customers an in-store return point, through the vape bin, for their used vape products," said Anand Cheema. "As a convenience retailer, I want to play my part in reducing the littering associated with single-use, vaping products which in turn will benefit our local environment. This is a positive step forward and one which I fully support."
SGF CEO Pete Cheema said: "SGF recognise, however, that single-use vapes can also be a gateway to long-term vaping products for those quitting smoking, but that they must stop appearing in our streets and parks. Stores participating in the pilot will be able to offer customers a return point in-store through a recycling bin for used vapes and retailers will be provided with a convenient waste and recycling option as part of this.
"This is the first part of an ElfBar & SGF 'Recycle Used Vapes' programme. However, there will be a further announcement at our SGF Annual Conference next month around waste and recycling options for these products and which convenience retailers will have the opportunity to sign up to over the two days of our flagship event."
ElfBar UK director of government affairs Eve Peters said: "We welcome the opportunity to join with SGF in this important extension of our Green Awareness recycling programme. To date, our own programme has covered 70 stores in England and Wales with plans to scale up in terms of recycling bin coverage by the end of the year, including the 20 SGF member stores in Scotland in this pilot partnership with SGF.
"Recycling points for used vapes have increased significantly in Scotland in recent months and we have worked to extend our recycling effort into the convenience sector, therefore we will be making further announcements in partnership with the SGF at the conference in October."