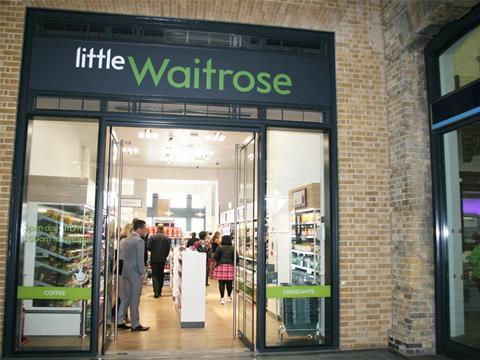 It took me a while to find Waitrose's first train station store, tucked out of the way in a corner in London's King's Cross.
Once inside, the customer is hit with a wall of colour: tropical fruits, nuts, drinks to go, baked goods. This is Waitrose doing what it does best, just on a smaller scale.
The store, which opened today, is their smallest, at 2,500 sq ft. The design has had to be modified to fit into an awkward C-shaped space, forming three logically distinct sections.
See more pictures of Waitrose King's Cross
The first third, with drinks, sandwiches, bakery, and hot food to go (including flaky sausage rolls and porridge), is clearly defined.
The second third comprises non-perishable goods such as dog food, rice, noodles and wine, as well as refrigerators for meat, fish and cheese.
The final third of the store is given over to an appealing 'library-esque' area and a lot of tills. There are eight self-service tills and five podiums. The space to pay is deliberately kept large and open because as well as having to cope with a predicted large footfall, there will be plenty of passengers rushing to catch trains.
The library-style area was pleasantly lit and included an enticing rack of glossy magazines, sweets, chocolates, nuts and dried fruit snack packs. It's tucked away out of the flow of the rest of the store, giving customers the chance to browse if they have a few minutes to kill before their train leaves.
As in any travel convenience store, suitcases could be a problem. They and their owners occasionally blocked the aisles and made it a little more difficult to manoeuvre around the shop. A manager joked about the possibility of putting in a suitcase holding bay to house them.
For Waitrose's first venture into the world of travel convenience it is certainly a good start: it's small but perfectly formed, with just the sort of items you could imagine needing before you embark on a long train journey. It's the little touches that make the difference, and for me, those touches included travel essentials like neck pillows, headphones and phone chargers.
"We hope this will be the first of many station branches," says Nigel Keen, director of development for Waitrose – but so far the only other confirmed travel c-store will be outside Manchester Piccadilly Station, opening in September. It'll be intriguing to see if Waitrose's railway push gathers steam.