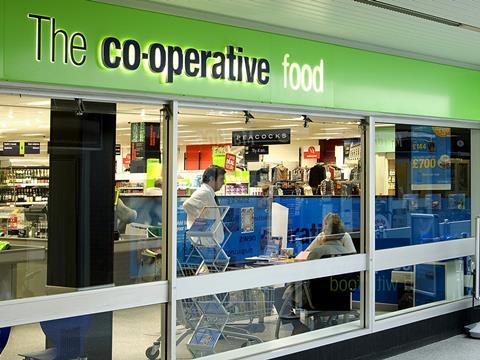 The Co-operative Group has pledged it will continue to improve own-label quality as it prepares to take its total investment in price cuts to £200m by the end of 2016.
Quality would remain a key focus, the group said, as it also vowed to stay focused on remaining convenient and relevant to its eight million members.
The mutual invested £125m in price cuts last year, lowering food prices and cutting the cost of fruit & veg by more than 15%.
Retail CEO Steve Murrells said price-cutting investment would reach £200m by the end of 2016.

"At the moment we are able to continue to invest for our customers, invest for our colleagues, because we are working very hard to take cost out of running the business and we are sweating the assets very hard, and we are confident that we have many opportunities to continue to go forward to be able to do both those things," he told The Grocer.

"Retail is continuing to be one of the most competitive markets around: we spent most of last year in deflation at 1.5% and I see nothing to suggest that that is going to ease up."

Murrells said its fair pricing policy wasn't "a one-year trick". "It is something our customers are telling us is right and we know is right," he stressed.
It comes as The Co-op announced its full-year results this week, which showed like-for-like food sales up 1.6% for the 52 weeks to 2 January.

Investing in stores
The retailer refitted 264 stores last year, helping to drive its core convenience like-for-like sales by 3.8%, or by 7% over two years.
It opened 97 new food stores, taking its estate to more than 2,800, and is planning another 100 in 2016 with refitting of a further 150. A dedicated team was now improving its larger stores for better convenience, Murrells said, with growth through volume the direction of travel.

"If you just consider, people used to come to us for distress reasons and that is, in a way, how convenience started. What we hope is they will come to us for destination reasons rather than they run out of something.

"The way we get to that ultimate place is through the current approach, which is little and often and that is because we are in the communities where people are and people are shopping three or four times a week.

"The old shopping list that we all remember is a thing of the past now. People shop on the go, they're shopping as they need it, and because we are there, in the right place at the right time, they are using us more often when they need it.

"We, of course, want more customers and members shopping with us and we want them to spend more money with us, which we think will be the case as long as we continue improving the shopping trip for them."
Quality is key
Murrells added cutting the quality of The Co-op's food was not an option as it fought to compete on price.

The group is now in the first year of its three-year Rebuild phase following its immediate rescue from financial meltdown in 2013.

Group CEO Richard Pennycook said it had been "a year of real progress with much still to do" but the food offering was strengthening.

The quality of The Co-op own-brand food, which along with customers knowing that when they bought its food they were also buying into its ethics, was working, Pennycook stressed.

"It is something that really differentiates us; we need to bring that to life again," he said.

With the immediate rescue phase over, Pennycook has volunteered a 60% cut in his pay, meaning from this July his basic salary will drop from £1.25m to £750,000.

Among immediate plans now is the launch of a new Co-op membership proposition at its agm in May.

Chairman Allan Leighton said The Co-op was now the UK's most frequently visited food retailer and confidence in it was growing. He described as "exciting" the plans it had to drive membership engagement further.

Leighton announced that Ian Ellis, the group's chief finance officer, had been appointed an executive director and Lord Victor Adebowale as an independent non-executive director.

Pippa Wicks, who was seconded in 2014 to help the rescue, is to become the permanent COO; and Mike Bracken joins as chief digital officer to develop a digital strategy.

Leighton also said the mutual was improving its governance by cutting the period of notice for executives from 12 to six months.