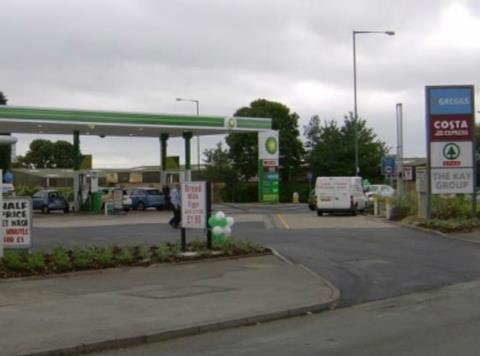 Forecourt operator The Kay Group has reported a 4.7% drop in profits for the year ending 31 October 2016.

Operating profits at the retailer dropped to £2.57m last year, compared with £2.45m in 2015.

The company said this was partly due to "expenses being tightly controlled", having invested in making its refrigeration system more efficient and installing solar panels on its estate to reduce electricity bills.

A "marginal" 1.9% increase in turnover from £83m to £84.6m "reflected the fact that fuel volumes were flat", it said.

Owner and CEO of the Kay Group Ken Kay said new rules ending the sales of 10-pack cigarettes were making the market tougher.

"It's like what they did with the chocolate bars going down in size and they are playing the same trick with cigarettes," he said.

"The government has stopped all that and all sales are of 20-packs and none at the magic pricing of 10-packs. It's hit our tobacco sales by 8%-10%. There's also a pricing issue with alcohol sales as more and more discounters like Lidl come along. That's coming under pressure."

Kay warned he did not expect to see an uplift in performance in next year's results.

"News and magazines have been falling in trend for quite a while and it all seems to have come to a pause rather quickly," he said.

"The last few months we've been struggling, and if we get the same results next year as this it will be good."

Increased wages and the introduction of a new outlet saw expenditure increase from £2.5m to £3.4m, the company said.

A new outlet in Nelson was opened during the period, as well as the development of another site in Crewe.

The firm's parent company The Kay Group (UK Holdings) reported a 1.3% rise in operating profit from £2.6m to £3.3m for 2016.

The £1.2m sale of a site in 2015 had benefited results last year, which explained a drop in profits-before-tax from £3.7m to £3.2m in 2016.

However, Kay said, despite feeling positive about the fuel market, it would be introducing more concessions such as Costa rather than relying on petrol, following environment secretary Michael Gove's plans to ban the sale of petrol and diesel cars from 2040.

"We're under threat by Mr Electric and I used to say he was on the horizon, but he's at the end of our street now," added Kay.

The company said it was still pressing ahead with plans to open two more sites in November and January, with another four lined up for 2018.