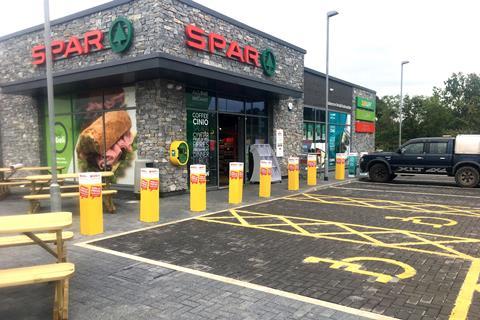 Welsh convenience stores are reporting sharp rises in home delivery orders since the principality entered its 'firebreak' lockdown on Friday.
Spar wholesaler AF Blakemore told The Grocer it had seen a spike in demand across its 14 company-owned stores in Wales that have partnered with online delivery platform Snappy Shopper.
"In recent weeks, our Blakemore Retail Spar stores have played a key role in local communities delivering essential groceries to those in need," said Blakemore Retail MD Matt Teague.
"In partnership with Snappy Shopper, our home delivery service makes it easier for customers to see what products we have available without leaving their homes. Over the weekend, we saw a sales increase of 43% and order increase of 22% across our home delivery stores in Wales versus the previous four weekends."
Conrad Davies, owner of Spar Y Maes, Pwllheli, and recently crowned Convenience Retailer of the Year at the Convenience Awards, told The Grocer his home delivery orders had risen by 50% over the weekend.
He added this lockdown period was an important time for convenience retailers to offer a home delivery service if they weren't already to make up for a decline in footfall.
"You've got less footfall coming in so all those incremental sales aren't being picked up," he said.
Proprietor of Spar Llanrwst and Penmaenmawr, Sara Mcllveen, said the family-run business didn't offer home deliveries prior to coronavirus but got on board "to provide a service for those who were struggling to obtain a food supply in the local area".
When lockdown was lifted in June, she saw the stores' home deliveries take a significant drop to 10 and 20 deliveries a day.
Following the 'firebreak' lockdown, she said she had seen a 15% increase but added it had not reached the same levels since the onset of coronavirus in March.