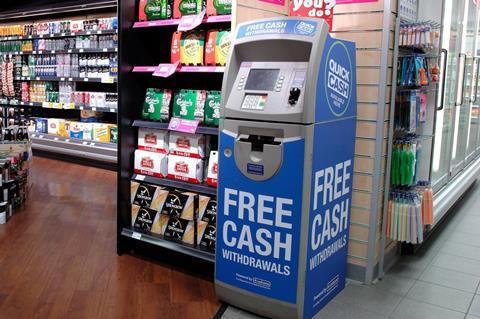 Earlier this month, the future of the entire ATM network was called into question during an evidence session held by the Treasury Committee with the Payment Systems Regulator present.

"It's clear that the whole way that people access their cash via ATMs is starting to fail," said MP Nicky Morgan. The Treasury Committee chairman went on to describe the system as being on the "precipice of collapsing".

To put this in context, in the second half of 2018, with banks closing their doors at a rate of 60 per month, 3,000 ATMs vanished from the high street.

Meanwhile, the network of cashpoints in convenience stores that fills the void is also under pressure. Increasing numbers are switching from free-to-use machines to those that charge customers for withdrawals at "absolutely disproportionate" levels, putting people off using them, according to Harris Aslam, managing director at Scottish c-store chain Eros Retail. In some cases they have been removed altogether.

So, as retailers reel from the moving goalposts, why are their cashpoints changing? And is there a way they can retain the footfall driver they present?

For every withdrawal from a free-to-use cashpoint in a convenience store, the ATM provider (the largest of which is Cardtronics) is paid by banks for providing their customers with cash. That fee is set by Link, a not-for-profit organisation made up of members including banks, building societies and independent ATM operators such as Cardtronics.

The fee, known as the interchange rate, was historically set at 25p per withdrawal. But in January 2018 Link set a series of fee reductions in motion, which was good for the banks, but bad news for the ATM companies.

The first reduction came into effect on 1 July 2018, taking the 25p down to 23.5p. The second, in January 2019, was by the same value again, taking the fee down to 22p.

In response, ATM companies have been removing machines no longer deemed "economically viable" and introducing withdrawal charges of between 95p and £1.99 on an increasing number of those that remain.

Cardtronics currently has 15,402 cash machines, 4,952 of which are pay-to-use. Of 616 ATMs removed by the company from June to December 2018, 74% were free to use.

Some 46% of all c-stores have a free-to-use machine, while 16% (approximately 7,401) have one that charges, according to recent data from the Association of Convenience Stores. ACS chief executive James Lowman says the balance is shifting towards the latter.

"When Link reduced the interchange fees payable by banks to ATM operators, we warned them and the government that the consequence would be free-to-use ATMs being removed or switched to charging machines," says Lowman. "Sadly, this is what is now happening. The Payment Systems Regulator needs to examine the impact of Link's decision as a matter of urgency."

Aslam accuses Cardtronics of showing "absolute disregard" for consumers and his business in making the "deeply unpopular" move to introduce a 95p charge on his machines.
"The fee is absolutely disproportionate and that's the reason so many retailers are so frustrated," he says. "We have to now take the pressure from the consumer."

Cardtronics says it bases its decision on whether to introduce a fee on a "case-by-case basis and reflects the economic viability of the individual machine".

The ATM provider has called on Link to reverse its second cut to the interchange rate, raising it back to 23.5p, with a view to ensuring ATMs 'maintain a free-to-use status'.

"Surely, the right answer is for Link and the banks to remove the second interchange cut, which would allow independent ATM deployers such as ourselves to maintain the free-to-use status of local machines," says a Cardtronics spokesman. "Unless Link reverses the second cut to protect the UK's free-to-use network, and introduces a sustainable long-term alternative to the current interchange structure, we have no option but to introduce a small fee on some of our machines. We only ever charge a fee when there is no other option apart from removing the machine altogether."

Link has so far shown no sign of agreeing to reverse the second cut, though a spokesman has confirmed a third and fourth wave of reductions are being delayed to give the industry time to stabilise.

There are other ways retailers may be able to hold on to the footfall provided by access to cash, though. Several pilot schemes are due to launch that could revolutionise the way cash is dispensed.

This spring, Lloyds and Visa are partnering to launch a cashback initiative that will see retailers receive an interchange fee for the first time. Participating retailers will receive 22p per withdrawal for providing customers with cashback whether or not they are making a purchase at the same time. The scheme is to be trialled in areas where people may struggle to access cash.

The ACS has raised concerns that it could pose security risks for retailers keeping an increased quantity of cash in their tills, adding to the already rife issue of retail crime.

But Lloyds argues it will give customers more reasons to visit local shops at a time of unprecedented challenges for British high street, while helping to ensure nobody is excluded from the financial system.

"The unlocked potential of cashback is obvious, as there are literally tens of thousands of local shops up and down our high streets that already have all the infrastructure in place to offer this service," says Vim Maru, group director, retail, Lloyds Banking Group. "We need to make it more viable for them offer cashback to all customers, whether making a purchase or not."

In a separate initiative, PayPoint has teamed up with Link for a new cashback scheme. Using PayPoint's designated ATM-style machine, a customer will tap in their PIN, then receive their cash from the retailer's till.

Perhaps, then, retailers can be reassured that access to cash, and the footfall it provides, is undergoing a period of transformation, rather than approaching the precipice of collapse.