Hear ye, hear ye, the king of all roundups has arrived!
From sweet treats to boozy tipples and curry sausages to chocolate busts, check out all the new food and drink launches and stunts for the coronation of King Charles III and where you can get your hands on them
Paradise Bay CiiiR Royale Cocktail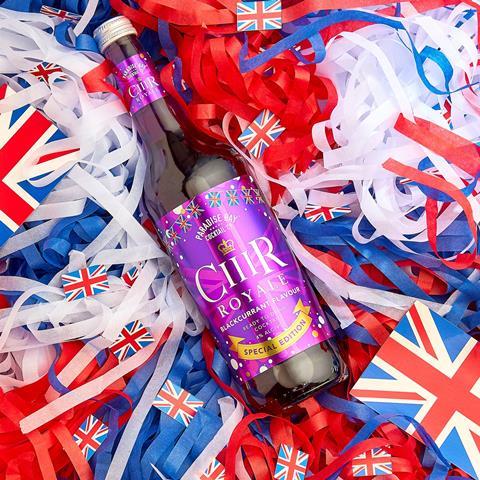 Continental Wine & Food Ltd has launched a cocktail, CiiiR Royale, to commemorate the coronation. The purple cocktail is a twist on the classic Kir Royale, with a blackcurrant flavour.
Lyle's Coronation Golden Syrup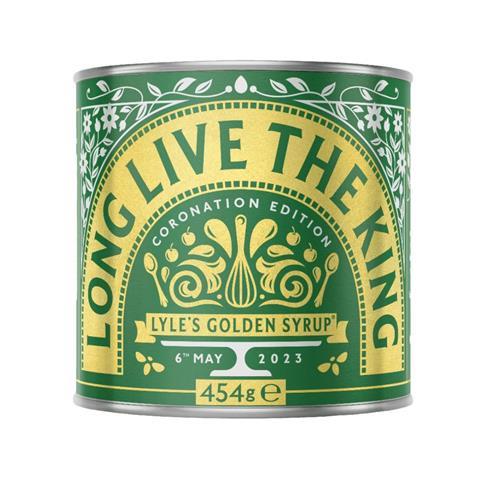 Lyle's Golden Syrup is launching a tin design to commemorate the coronation of King Charles and the Queen Consort. The tin features illustrations of vines, flowers, apples, and bees, paying homage to the environment and nature that the King loves. As a holder of a Royal Warrant for more than 100 years, Lyle's Golden Syrup is also donating £25,000 to the Royal Warrant-Holders Association Charity Fund, supporting small, local charities in the communities of warrant-holding companies and their employees.
Pimm's Coronation Edition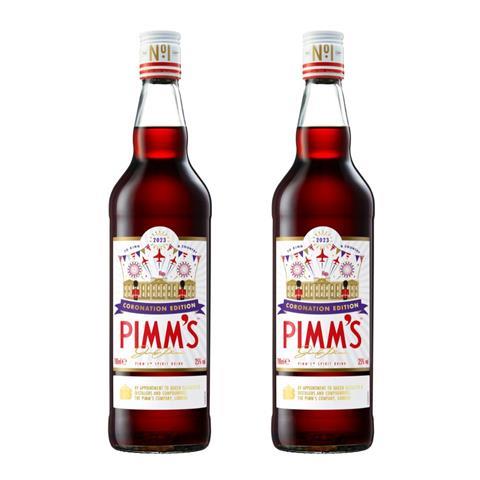 Pimm's Coronation Edition bottle features a crown-shaped illustration with Buckingham Palace at its centre, adorned with purple and gold bunting and a banner.
Tesco: King in the Castle pub pop-up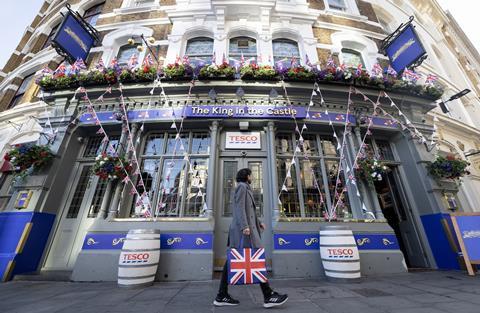 Tesco is opening its first-ever pub pop-up, The King in the Castle, in London's Farringdon, to celebrate the coronation. The pub will offer a coronation-themed menu featuring products from Tesco's coronation food range, with proceeds going to youth charity The Prince's Trust. The menu, curated by Tesco's executive chef team, will feature twists on classic celebrations, nods to the royal family, and inclusive options for all, with prices starting at 50p. So, whether you're marking the historic occasion or simply making the most of the long weekend, why not do good by going to the pub?
Heck Coronation Chicken Chipolatas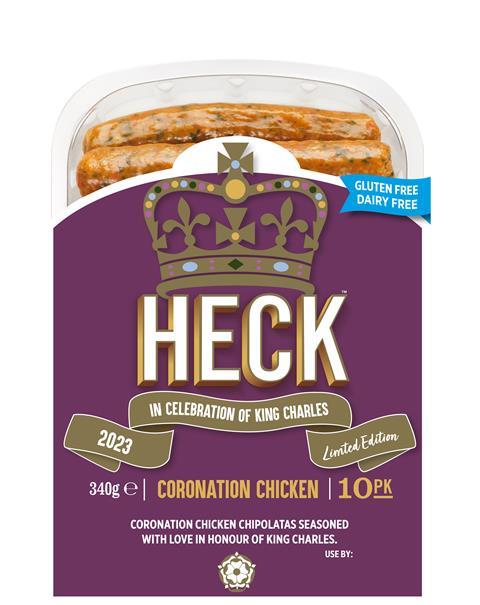 Heck has launched a gluten-free and dairy-free sausage recipe to add some regal flair to consumers' coronation barbecues. The Yorkshire sausage maker's take on the classic coronation chicken combines lean British chicken with mild curry spice, seasoning, and raisins. Whether you're hosting a street party or enjoying a coronation breakfast, these sausages are fit for a king.
Whitley Neill Coronation Gin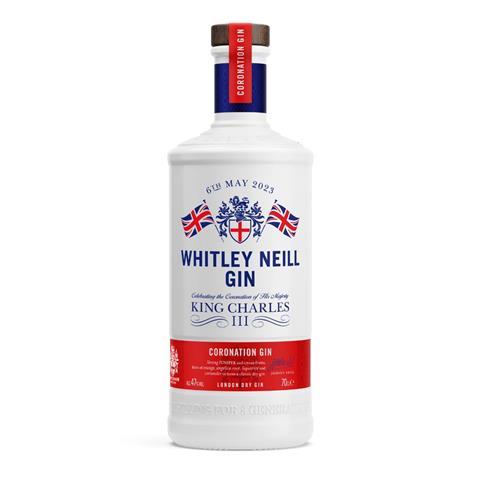 Whitley Neill has launched a limited edition bottle of its Connoisseur's Cut London Dry Gin to celebrate the coronation. Coming in at an eye-watering 47% abv, the patriotic red, white, and blue colour scheme of the bottle will surely have the drinkers belting out the national anthem at full volume.
Tyrrells Coronation Chicken Crisps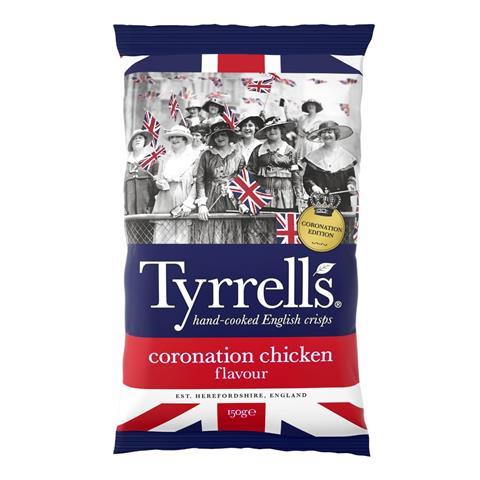 KP Snacks has relaunched its Tyrrells Coronation Chicken flavour to celebrate the festivities as the packaging design is swarmed with union flags. In stores from 10 April, Tyrrells Coronation Chicken is launching in 150g sharing bags at £2.75 and will be available in Waitrose, Booths, Tesco, Asda, WH Smith Travel, Spar and BP.
Asda Banquet on a Budget collection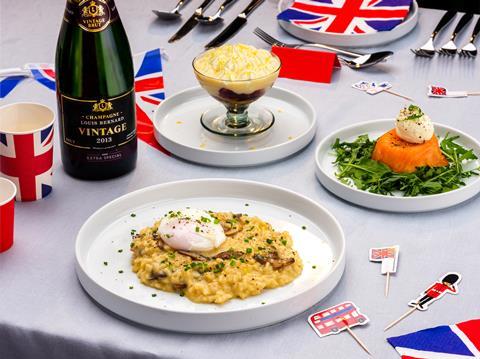 Asda has partnered with former royal chef Darren McGrady to produce three regal recipes, boasting each dish to cost less than £3.30 a head. The royal inspired recipe collection includes coronation crown smoked salmon custards with rocket and horseradish cream, earthy mushroom risotto with poached eggs and cheddar, and a lemon and blackcurrant trifle with a honey custard – how very posh! The ingredients for each recipe are available at a dedicated Asda.com page.
Silent Pool Coronation Special Edition Gin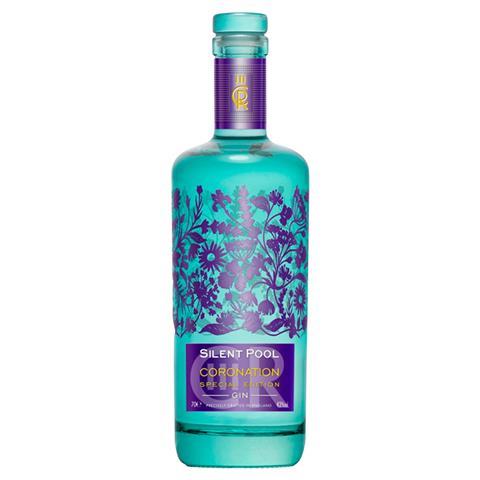 Waitrose will be exclusively selling a Silent Pool Coronation Gin. Created in the heart of the Surrey Hills, this gin is a rich and clean juniper-driven spirit with floral layers of lavender and chamomile, notes of citrus and kaffir lime, grounded with the subtle sweetness of local honey.
Wensleydale Creamery Coronation Set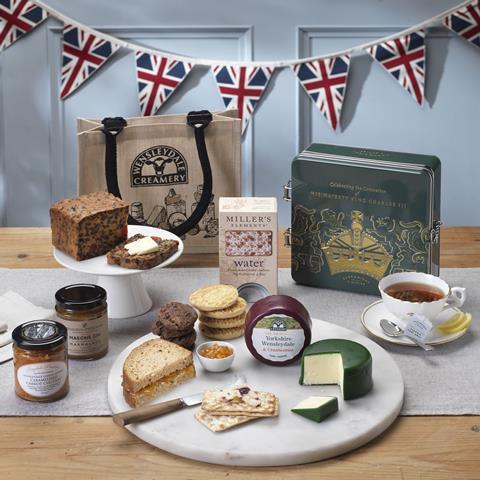 The Wensleydale Creamery has launched a new Coronation Gift Selection for the most royal of afternoon teas, including Yorkshire Wensleydale and Yorkshire Wensleydale & Cranberries waxed cheese truckles, water crackers, Raydale Preserves Wensleydale Cheese Lover's Carrot Chutney, plus Rosebud Preserves marmalade made with Masons Yorkshire Gin and a delicious, locally made Fruit Cake. The range even includes an HM King Charles III Coronation Teatime Collection Tin perfect for sewing kits for years to come, but now containing butter shortbreads, chocolate brownie biscuits and earl grey tea – all in a reusable Wensleydale Creamery jute bag. Available for £59.95 from the Wensleydale Creamery's online deli.
Stokes Coronation Sauce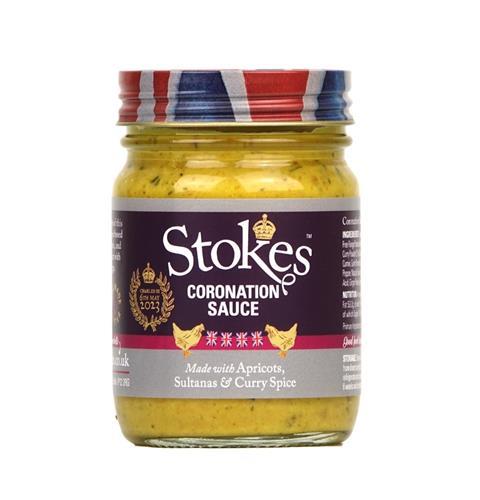 Stokes Sauces will launch Commemorative Edition jar of Coronation Sauce. Available in both Booths and Ocado for the perfect coronation chicken sandwich.
Chapel Down Coronation Edition English Sparkling Wine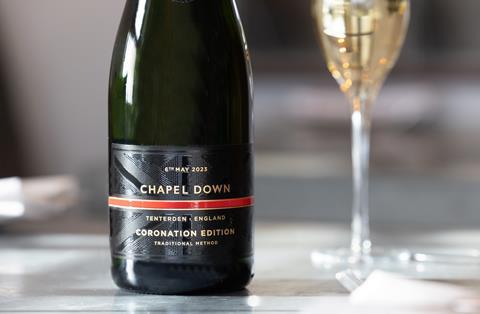 Chapel Down has announced its coronation edition English sparkling wine. All profits of the wine will be donated to the Royal British Legion and it is available at Harvey Nichols and Fenwick as well as restaurants such as two Michelin-starred The Hand and Flowers in Marlow.
Cadbury Coronation Chocolate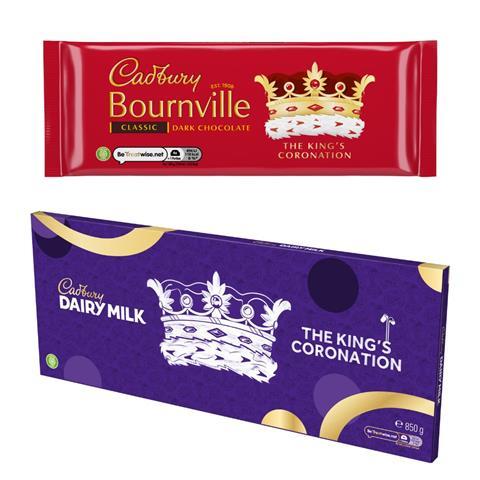 The famous Cadbury Dairy Milk purple packaging has received a royal-inspired redesign, and along with the Bournville bar it's available in 180g tablets. The British brand marked the coronation of King Edward VII in 1902 and Queen Elizabeth II in 1953 with limited edition designs too.
Ikea chicken meatballs coronation recipe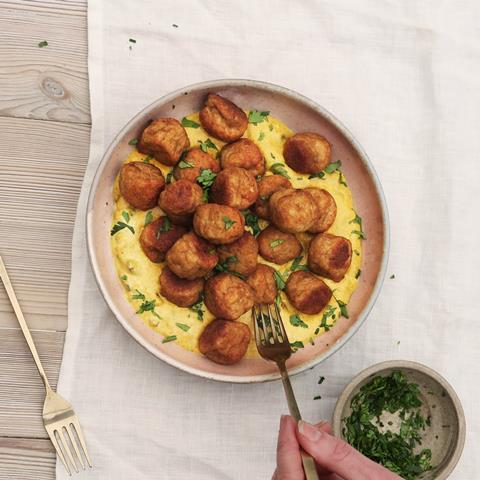 Ikea has released a Scandinavian twist on the classic coronation chicken recipe for those not up for the official coronation quiche. The recipe sees the classic chicken meatballs or vegan plant balls coated in the creamy curry sauce.
Belvoir Farm Coronation Elderflower Cordial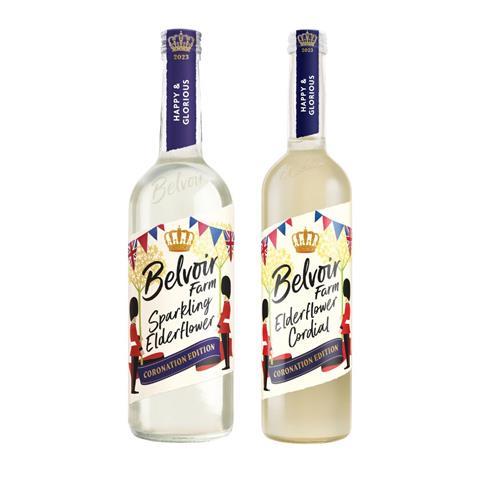 Belvoir Farm's Elderflower Cordial and Lightly Sparkling Elderflower bottles now feature bunting, the King's guards and the phrase 'happy & glorious' on the neck.
Daylesford Organic Coronation Range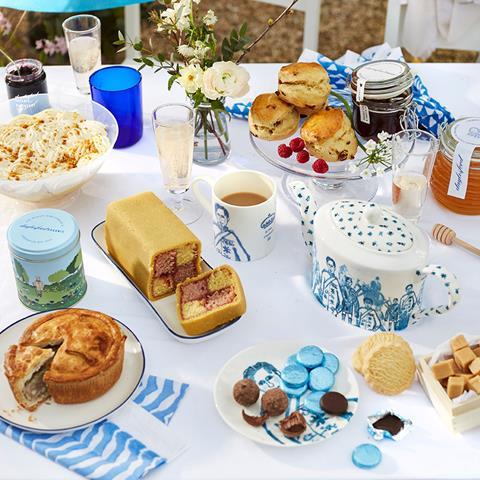 Daylesford Organic's Hip Hip Hooray coronation collection spans food and homeware in partnership with British artist Hugo Guinness. From pork pies, trifle and Battenberg cake, Daylesford takes a very cutesy approach to this royal celebration.
Pork Farms Coronation Edition Pork Pie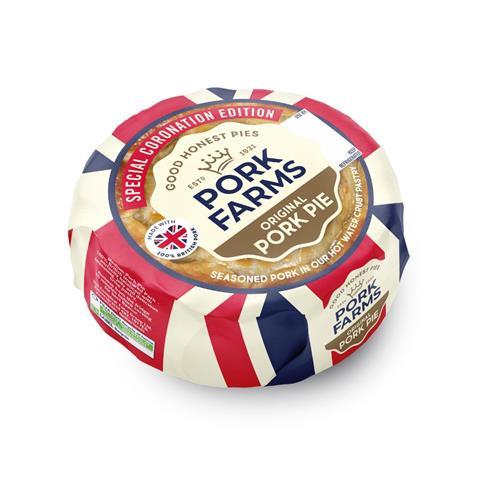 Pork Farms is launching a special edition coronation design for its original pork pie. Available now until the end of May in Morrisons, Tesco and Asda (£2.20). Becuause what's more British than a pork pie?
Premier Foods Coronation Range Rebranding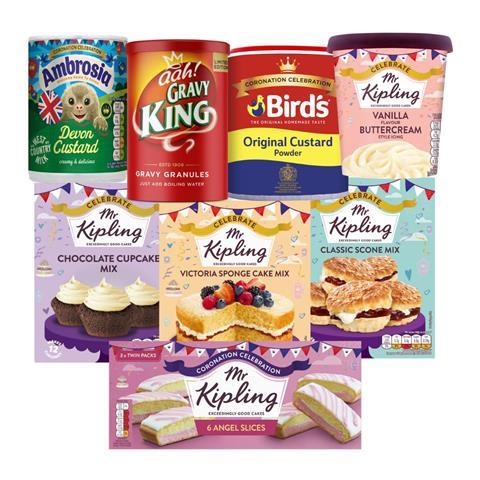 Premier Foods is celebrating the King's coronation with a selection of limited edition redesigns. The on-pack takeovers span its Mr Kipling core cake range, Bisto gravy granules, Ambrosia and Bird's.
Sipsmith Coronation Gin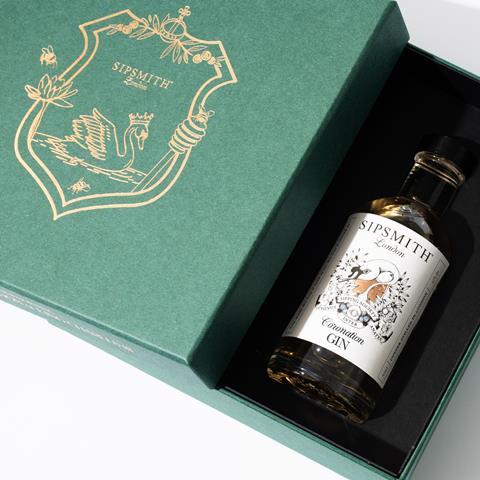 Sipsmith is releasing The Sipping Society Coronation Box with two bespoke gins included: Coronation Gin and Hot Honey Gin. Available on its webstore for £35.
The Delicious Dessert Company King of Éclairs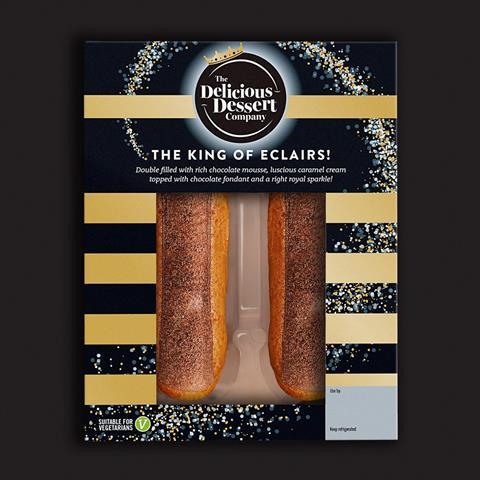 The Delicious Dessert Company has launched coronation special: the King of Éclairs. With a modern twist on the classic, a double-filled chocolate éclair with chocolate mousse and caramel cream and topped with chocolate fondant and a royal gold sparkle – giving it a gold shimmer.
Tiptree Coronation Mayonnaise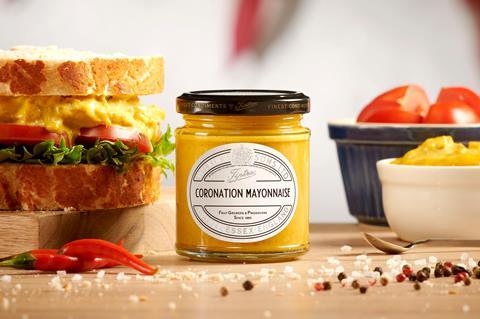 Royal Warrant holder Tiptree's Coronation Mayonnaise (£2.99) blends Tiptree mayonnaise, mango chutney, and a touch of spicy curry powder. Available from Selfridges and Tiptree Tea Rooms.
Aldi Coronation Beers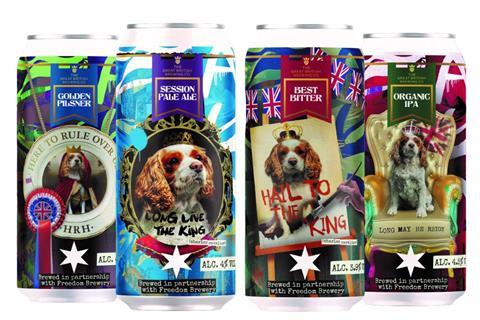 As part of its coronation range, Aldi has released four craft beers featuring the namesake of King Charles II, the Cavalier King Charles Spaniel. Golden Pilsner, Session Pale Ale, Best Bitter and Organic IPA hit shelves at £1.79/440ml.
Bladnoch King's Cask Whiskey
Bladnoch Distillery is celebrating King Charles III's coronation with a limited edition single malt: The King's Cask (£180). The Bladnoch Distillery Centre was opened by King Charles, then the Prince of Wales, in September 2019. The master distiller Nick Savage selected a Tokaji 'Kings Wine' cask, matured in oak barrels with a hefty abv of 47.7% to celebrate the occastion.