Bagged snacks have lost none of their crunch in 2012 on paper. Value growth across the category stands at 6.6%, and 15 of the top 20 brands have increased sales year-on-year.

But as volumes flatlined, it's clear the category's performance owes more to price increases than to consumers tucking into greater quantities of crisps.

"With commodity prices dramatically going up due to the wet weather impacting UK potato crops and the drought in the US impacting corn, the category has seen its average price rising," says Nielsen senior client manager Helen Jones. "And although this means a positive impact on base value sales, base volume has declined."

The Walkers core range is no exception: while still the runaway category leader, bagging a cool £478.4m in annual sales, sales have fallen 2.4% by value and 10.6% by volume in the past year, as rivals such as Pringles and particularly McCoy's made headway. Walkers was one of eight brands in the top 20 to record a drop in volume sales.

Some experts claim price increases haven't helped the brand. "This is a result of the increase in the rsp," says Nisa trading controller Trevor Standing. "Bagged snacks are not seen as a cheap option anymore and have made way for growth in other sectors such as sharing, which offer better value." However, the ongoing multibuy Nisa has offered on the standard Walkers range in 2012 has helped ensure year-on-year sales growth for the retailer, he adds.

"Maintaining standard bag sales is challenging these days," confirms David Milligan, head of wholesale buying and marketing at Sugro UK. "Walkers has many different formats and configurations for crisps, some of which offer greater value for money than others. Right now, who can blame the consumer for making more considered purchases of six packs and beyond? This is where we are winning. The price-marked 49p pack has had limited success despite great support from us, but even this is not enough on its own to change current consumer purchasing behaviour."

PepsiCo maintains that across its entire portfolio the Walkers brand is in growth. "Our brands, including core, continue to drive growth and transform the crisps, nuts and snacks category, helping customers drive sales through increased marketing investment and product innovation," says Walkers head of marketing Sebastian Micozzi, adding that "2012 has been a solid year" for Walkers.

It's certainly the case that, despite the tribulations of the core range, other Walkers brands have done well - especially those in the recently popular sharing bag sector. Sales of Sensations, for example, are up £16.2m (or 25.5%) with volumes up 19.6%, following the introduction of a fresh new look and two new flavours - Mexican Fiery Sweet Chipotle and Smoked Monterrey Chilli with Goats Cheese - in July. Similarly, Crinkles sales are up £15.3m (or 46.2%) in value and 39.8% by volume, respectively. Wholegrain snack Sunbites, meanwhile, has broken into the top 20 as sales grew by £6.3m, with value and volume both up by around a third, a performance that "exceeded all expectations", says Micozzi.

And while Walkers Extra Crunchy sales flatlined, Walkers Deep Ridged - based on little more than two months of data following its August launch - is already ranked in 24th place, with sales of £15.2m, and is tipped to enter the top 20 next year. "Walkers Deep Ridged has exploded into the category, achieving record sales of £19m in just 12 weeks," confirms Micozzi. "It is now the biggest crisps, nuts and snacks launch of the year."

Of course, it's not all about PepsiCo, and other brands have had their own share of upheaval during the past year. Pringles, which fell in both value and volume in 2011's Top Products Survey, was bought from P&G by Kellogg's in February for $2.7bn. It's certainly looking healthier under its new ownership, having translated last year's declines into 5% value and 2.6% volume growth.

"Since Pringles changed ownership, it has been given steady promotional support - 80% on promo on average," points out Jones. And the brand is expected to be even more heavily discounted in the run-up to Christmas.
" Walkers Deep Ridged has exploded into the category, achieving record sales of £19m" Sebastian Micozzi, Walkers
Change is also in the air at UBUK, with McCoy's, Hula Hoops, Mini Cheddars and KP set to be acquired by Intersnack in the first quarter of 2013, after private equity owners Blackstone and PAI, repeatedly frustrated in their attempts to sell UBUK as a single entity, opted to spin off the KP Snacks arm this year. So far, at least, this behind-the-scenes activity does not seem to have affected sales - all four brands have racked up value growth, and only KP has recorded a dip in volume sales, of 13.7%.

McCoy's, in particular, has had an excellent year, delivering double-digit growth in both volume and value sales. The brand expanded into sharing bags for the first time in April and sales also benefited from a football-themed promotion that ran during Euro 2012 and included the launch of limited-edition flavours.

Seabrook, in contrast, has not been so lucky. The brand, which had a complete management overhaul in May under new CEO Jonathan Bye (formerly CEO of Vimto Soft Drinks), is now aiming to create value and distribution growth. And it needs to. Seabrook was the biggest faller in the top 20, dropping from 13th to 17th position as sales slumped a worrying 22.9% by value and 32.7% by volume.

"Major brand activity is even deeper this year, so the price position for Seabrook is not as competitive," says Nisa's Standing. "Unfortunately there hasn't been any new product development from the brand and with space on the shelf at a premium, smaller brands will always get squeezed."

As ever, it's not just that the brands are squeezing each other. They're also increasingly coming under pressure from own label, which despite slight volume decline, added £43.6m of sales in the past 12 months. The total value of own-label bagged snacks now stands at £477.6m - coincidentally, almost exactly the same value as standard Walkers crisps - and consensus is that own label will keep growing next year.

"Own-label lines generally offer better value than brands, and in the current climate, where the consumer is looking to save money, it provides a very good option," says Standing, adding that the best way for brands to fend off competition from own label is through NPD. "There is never enough innovation. This is a very mature market, so it needs new product development to help it grow."

Below the top 20, retro crisps are performing especially well, according to Jones, with both the Golden Wonder and Space Invaders brands in strong growth. Pom Bears also made gains but several of UBUK's heritage brands, in contrast, are in relatively steep volume decline, including Twiglets, Discos and Wheat Crunchies.
Top Launch 2012
Popchips Popchips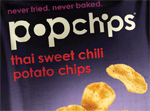 Having taken the US by storm, 'never fried and never baked' Popchips burst onto the UK market in March this year. Popped with heat and pressure, the crisps claim to contain all the taste - but less than half the fat - of fried crisps. New flavours, and a competition backed by brand ambassador Katy Perry, have maintained excitement - and co-founder and CEO Keith Belling promises "exciting plans" for 2013, in which Perry will feature heavily, to help Popchips win new UK listings.