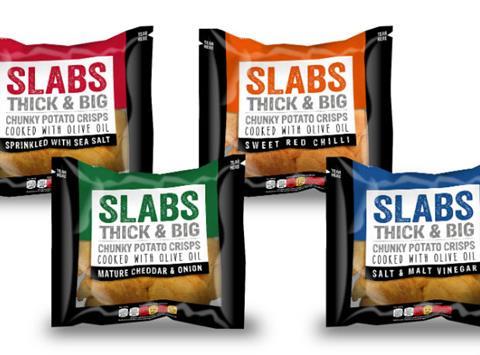 Snacks supplier Great Food Affairs has extended the range of its Slabs, the potato crisps that claim to be four times thicker than their rivals.

Previously available in 80g bags (rsp: £1.79 to £1.99), the 'gigantic' crisps now come in 40g single-serve packs (rsp: £1 to £1.29) in four flavours: Sea Salt, Salt & Malt Vinegar, Cheddar Cheese & Onion, and Sweet Red Chilli. They are made from slices of potato about 4mm thick, meaning they don't curl as they are fried in olive oil - unlike most other crisps, which are about 1mm.

"Our total focus is on creating and introducing great-tasting products into the marketplace for consumers to appreciate the difference," said Beege Bourne-Whittaker, commercial director at Great Food Affairs, which has also revamped Slabs' 80g bag to be a 'pillow pack' that opens along the side, making sharing easier.

"The bag design meets every expectation of a premium-quality product offer and we are brave enough to incorporate a window on all our packs to engage the consumer and manage their expectations," Bourne-Whittaker added.