When the founders of Taking the Pea decided to leave the UK, the future of the snack brand hung in the balance.
That's when former hotelier Hugo Morris stepped up to take over the brand in May 2020. He was drawn to the products' cheeky branding and uniqueness as the only flavoured, crunchy marrowfat pea on the UK market. It was a decision that would lead to Taking the Pea rolling out a new look, gaining listings, and winning two awards in this year's Farm Shop & Deli Product Awards.
The brand had been founded in 2015 by Aussie Mike Gallagher and his partner Sharmain Davis to provide better-for-you snacks. After a few years, they decided to say goodbye to the UK. "During the pandemic, they made the decision to move back to Australia and decided to leave the business in the UK, where its customer base existed and its humour was fully understood and appreciated," says explains operations manager Jasmine Wheelhouse.
Pitched as a healthy alternative to potato crisps,Taking the Pea offers flavours inspired by classic crisps. Its lineup comprises Cheesy & Onion, Smoked Ham, Sweet Chilli and Wacky Wasabi. Peas are used because they are a source of vitamin A, vitamin C, folate, thiamine (B1), iron and phosphorus. They are also rich in protein, carbohydrate and fibre, and low in fat.
"Not only that, peas have one of the lowest carbon footprint of any food group," says Wheelhouse. "They are water efficient, enrich the soil as they grow and in turn, reduce the need for fertilisers."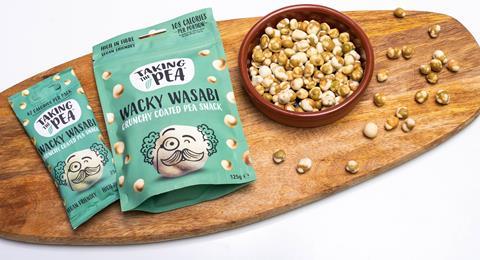 When he took over, Morris set about a rebrand that began with a packaging overhaul. The new-look packs feature bright colours and four 'cheeky' characters.
Originally stocked in farm shops and delis, Taking the Pea has since secured listings with Selfridges and wholesalers including Diverse Fine Food, Luxury Fine Living, Artisan Food Club, Faire and Ankorstore. It is also stocked by The Royal Albert Hall, Cobbs Farm Shops, Nobu, Spar in Scotland and on Amazon, and was an official Wimbledon snack this year.
"The business is going from strength-to-strength," Wheelhouse says. "As with any product in this competitive landscape, it requires a lot of hard work to get the product out there and in front of people, but we are pleased with our achievements so far."
Winning a gold at the Farm Shop & Deli Product Awards for Wacky Wasabi and bronze for Smoked Ham has helped the brand reach a wider customer base, she adds.
She sees the wins as a testament to the work and effort the team has put in since the company was formed. "It's an unbelievable feeling to see a product that you have worked so hard on not only come to market and be listed in some of the most recognisable places, but to be awarded not one but two awards."
While still a small business, Taking the Pea is continuing to grow, and Wheelhouse is the most recent recruit. Having worked for the brand for a number of years on a freelance basis, she has now taken over the day-to-day operations, including managing supply chains, streamlining current processes and ensuring the business runs as efficiently as possible.
In future, the team would love to see Taking the Pea become a household name, she says. "We are yet to crack a supermarket, but that's on our to-do list, if you can call it that.
"We've also love to add more flavours and products to our range – we've got a few ideas – but it's not something that we are actively pursuing at the minute."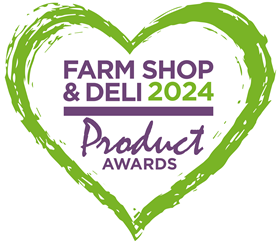 Entries are now open for the 2024 Farm Shop & Deli Product Awards, which recognise and reward the standout food and drink the specialist food market has to offer. To enter the awards visit the Farm Shop & Deli Show awards website.