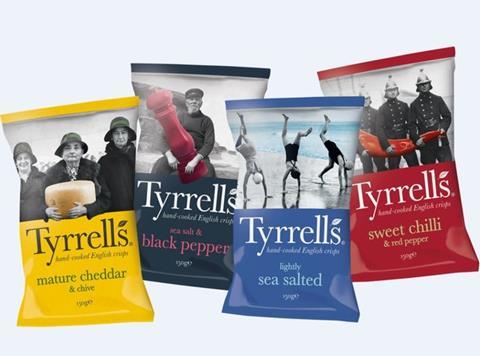 Tyrrells is tweaking its pack design to draw attention to the flavours of its crisps.
Rolling out now, the new packs feature either the same or similar photographs to the previous versions, but with certain objects highlighted in colour and sometimes enlarged.
The mature cheddar and chive pack, for example, depicted three ladies in coats and ribboned hats with a wheel of cheese. In the new version, the cheese is yellow and enlarged, while the hat ribbons are green.
The sweet chilli and red pepper flavour, meanwhile, replaces the photo of a vintage fire truck with one of three firemen carrying a giant red chilli.
"Crisps is a flavour-driven category and we wanted to make our flavours really sing out from the pack," said marketing director Jocelyn McNulty. "People have always loved our black and white photos – we've done lots of research on that. But not everybody understood that the photos were dramatising the flavour. What we've done is draw attention to that with splashes of colour so it becomes much clearer."
Tyrrells is following the packaging refresh with the launch of seasonal flavour Summer Butter & Mint later this month.