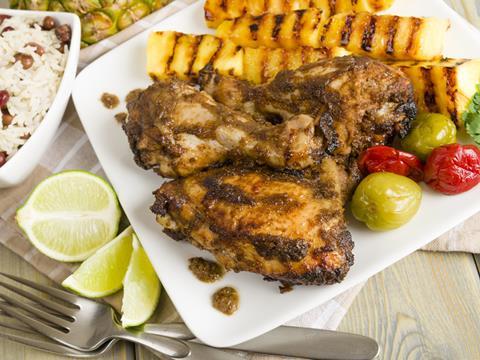 It might be 4,000 miles away, but Jamaica couldn't be much closer to the UK when it comes to contemporary food and drink trends. As one chef told Ainsley Harriott in Ainsley's Caribbean Kitchen (ITV1, 20 January, 11.30am) "nowadays it's not just jerk chicken and peas". It never was, of course. "It's what Jamaican people have been doing for some time, but it just got lost."

Lost in a sea of stereotypes and cultural appropriation (of which fmcg brands aren't innocent) and hiding all sorts of delicious dishes that the ebullient Harriott uncovered on his trip.

Such as that cooked up by "sexy vegetarians" Lisa and Chris, who live off the land and take a Rastafari approach to food that means meals are "clean, with no artificial inputs and no killing for eating". In their "magic kitchen" that translates to fried ackee ravioli with a cashew cream sauce. "For me what makes it is the fact it's totally plant-based," mused Chris.

Perusing the vast Coronation Market in Kingston, Harriott uncovered vivid green scotch bonnets, fresh yams and avocados bigger than his head.

It's a cuisine that's "inherently healthy" pointed out Harriott, as he cooked up griddled yams and barbecued prawns on a private beach. Produce is local, seasonal and sustainable. It caters to plant-based diets and, to top it all off, it's "the land of cold-pressed coconut oil".

It's no wonder Caribbean food is flying off the shelves on these shores. It's a cuisine that ticks every box on the on-trend eating list right now.