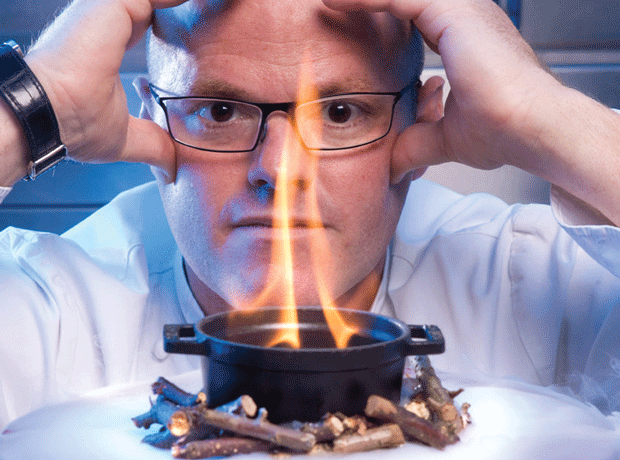 Is there a secret culinary formula to spice up your love life?" asked Heston Blumenthal on Recipe for Romance (Channel 4, 9pm, 9 February). "What have you done to your hair?" we replied, because Heston's swapped his egghead for Action Man circa 1970 and it's very distracting. Has he done a Rooney?

Never mind all that, because a bigger distraction soon arrived - the food. Sadly, in the absence of an invite to these one-off bashes of televised culinary insanity, you will never get to eat the exceptional food because it's impossible to recreate the recipes at home, bar the occasional exception. Something a determined amateur could achieve if they slow peeled a triple-cooked potato backwards before digging a hay oven in the garden to make some chips, maybe. But on the whole this was another visionary range of recherché recipes, born of Heston's desire to decipher what turns on our tastebuds.

With Valentine's Day approaching the theme was romance, so Heston explored how sharing food can make a couple fall in love, beginning his seduction with Champagne, caviar and chilli, moving on to forbidden fruit, slithering serpents and a bird of paradise, before climaxing with the scent of a man (yes, really) and a "multi-sensory fig of desire."

Mental as ever, then, but the flow of fabulous flavours formed a powerful aphrodisiac filled with peaks of pleasure and pain that sent the lucky recipients into raptures of epicurean ecstasy, even leaving one previously curmudgeonly couple cooing at each other like newlyweds. Brilliant stuff.