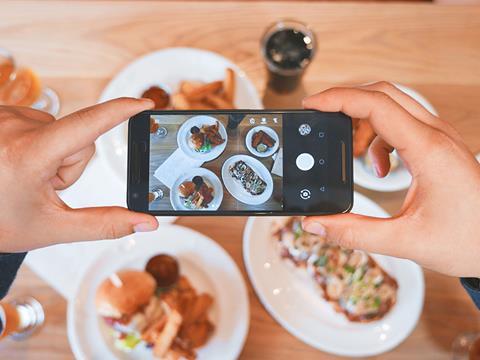 Instagram is a regular dinner guest. Meals go cold as multiple photographs of food are snapped before a carefully chosen image is uploaded to the platform. A search for the hashtag #food brings up 303 million posts at the time of writing. But is the influence of Instagram powerful enough to have changed food in the UK?

It is for the Wild Food Café in London. Owner Aiste Gazdar tells The Food Programme: How Instagram Changed Food (BBC Radio 4, 4 November, 12.30pm) the presentation of its plates is led by social media. "Most of our Instagram following is female so [the way the food looks] is very much female-led," she says.

This has its downsides, though. "Everything has gone pink and doesn't taste as good as it looks," says journalist George Reynolds. He highlights pros and cons in the way Instagram has changed food. High-end sushi chefs, for example, have complained that as photos are taken the temperature of the sushi goes off kilter. But for others, Instagram has been helpful. Cheesecake ordering service Pleesecakes in Epsom reached 147,000 followers in 18 months, prompting a book deal.

But the producer of the programme, Miles Warde, warns of a backlash. He questions whether Instagram could go the same way as smoking - a handful of restaurants have banned photos. However, with user numbers on the rise as Instagram surpassed one billion users in June, the platform's impact on the way we eat is unlikely to come to a halt any time soon.