Meet the buyer…

Lucy Evans, trading manager for dairy, Budgens
Lucy started her buying career at Morrisons, joining as a trainee and working her way up to become a buyer for fresh produce. She joined Budgens in 2013 and was previously responsible for lunchtime products, deli and cooked meats.
What do you love about your job?
LE: I love the fact my results are tangible, it's great to see products landing in store, seeing how they fit into a range and seeing how customers react to them both in store and in the sales figures. It's great also to see promotions working and pulling of successful launches is always satisfying, it's also a really exciting time to be working in the convenience sector.
What was the best launch in dairy in 2014?
LE: The dairy category has constant NPD, which is partly what makes it so interesting but I'd struggle to single out one particular launch from the year above another. For me it was more about the influx of smaller, local suppliers and adding real specialist products into the range. 2014 saw us adding lots of lovely local yoghurts and premium artisan cheeses like the new Torta Mascarpone Gorgonzola from Italy.
What's the best way for a supplier to approach you with a new product?
LE: Sending in samples is crucial and generates instant excitement, when you work with food and drink you really need to experience the products in order to understand them. However they need to come with, or be followed up by, a solid presentation that outlines the proposition, where it sits in the market and have some sound commercials behind it too.
Any pet hates when approached by a brand with NPD?
LE: My pet hate is not having enough time to pull off an effective product launch. There's nothing worse than rushing a product through that is deserving of a full 'bells and whistles' launch. Lack of time also mean we're not able to excite our retailers in the same way and bring them on the journey with us. Last minute changes are also a problem, all details should be 100% committed before you start the approach so there are no unpleasant surprises half way through.
How has dairy been affected by the ongoing price war in grocery?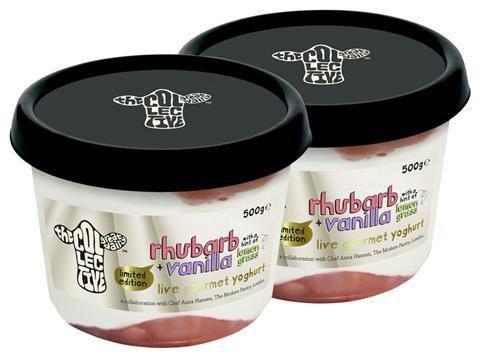 LE: There haven't been any great changes for us as much of our estate is convenience; we also work with lots of local suppliers who aren't involved in the same price battles.
What can suppliers do to add value back to the category? Do you have any examples of this from the past year?
LE: Adding value is all about quality, innovation and provenance. The best suppliers provide really good 'everyday low price' products alongside more gourmet and exciting offerings. At the moment this is being executed best within yoghurts - people want regular yoghurts for daily use and more dessert style yoghurts which are a treat.
New brands like The Collective are doing the gourmet end particularly well with rich, thick and creamy products and innovative flavours developed by chefs. Meanwhile, brands such as Yeo Valley are doing a fantastic job of supporting British farmers whilst also adding value and interest with their limited editions.
How will the market shape up in 2015?
LE: It will continue to be unpredictable, the way people shop in this category is changing, they types of products they value are becoming more varied and in 2015 the challenge will be finding space to fit in the breadth of options the consumer now wants and expects. I expect to see constant NPD this year, keeping things interesting and challenging.