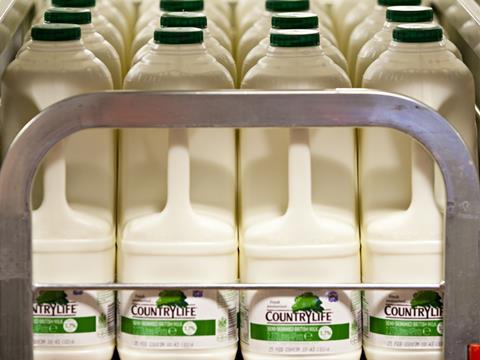 Aldi has defended its milk pricing policy in front of MPs and accused "other retailers" of leading a race to the bottom on milk prices.
Giving evidence to the Environment Food & Rural Affairs Committee's inquiry on farmgate prices this week, Aldi group buying director Julie Ashfield stressed there was "no correlation" between the price Aldi paid to farmers and its retail prices.
Pressed by committee chair Neil Parish on whether retailers were putting pressure on processors and farmers by keeping in-store prices low, she said Aldi "has never, and never will" reduce its milk price ahead of the market. "There are other retailers that have taken the lead on that position, and unfortunately as a discount supermarket our position is of one whereby we can't be beaten on price."
When Parish asked if this meant Aldi was "racing to the bottom" on milk prices, she replied: "We aren't racing first, we will follow where necessary". Ashfield claimed milk was "marginally profitable" for Aldi, but said even if retail prices fell further there would be "no impact" on the price it paid to farmers.
She said the discounter offered lower prices by saving money on internal costs - not squeezing the farmgate rate. "Our operating costs are probably the lowest in the market," she added. "That enables us to take a lower margin out of every product that we sell and remain a profitable business."
Ashfield added there was "no end date" planned for Aldi's 28p per litre farmgate price floor for liquid milk.
Heather Jenkins, Waitrose director of buying for meat, poultry, fish, frozen food and dairy, also gave evidence at the Westminster meeting.
She said the retail market was a "very tough environment" but admitted consistently driving down prices wouldn't result in a "vibrant food and farming sector".
Jenkins told MPs Waitrose's farmgate price for liquid milk was worked out through direct negotiations with farmers, instead of a strict cost of production model . The current rate of 32.08p/litre is one of best in the market, she claimed.
She added the retailer's commitment to buying whole cattle, sheep and pig carcases meant Waitrose was fixed on securing maximum value.
"We are interested in the long term and the security of supply, paying a fair and sustainable price and building confidence in that farming business," she said.
Both Ashfield and Jenkins stressed the long-term trust they had built up with producers through regular discussions and transparent contracts.