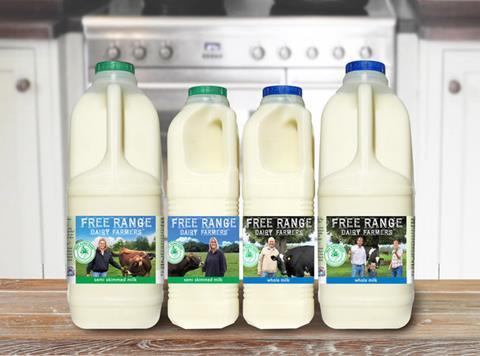 Free-range milk has been a topic of considerable debate since the turn of the year, when news that not one, but two new brands were gearing up to launch threw the industry out of its post-Christmas stupor.
In the red corner we had Free Range Dairy Farmers – which abides by the Pasture Promise accreditation scheme and requires farmers to graze their cows outside for at least 180 days a year – and in the blue corner we had Enjoy Milk, whose standards were a little less defined but wanted cows to graze outside "whenever the weather permits".
After much heated debate, not to mention a raft of newspaper headlines and national TV attention at the hands of foodie messiah Jamie Oliver, Free Range Dairy Farmers will go on sale tomorrow in more than 100 Asda stores.
The launch of the brand – processed by Oxfordshire-based fresh & chilled supplier Highgrove Foods – represents the first time the mults have listed an accredited free-range milk brand in any significant volume. And it will be very distinct from mainstream milk, priced at a premium £1.50 for two pints.
It marks a major leap forward in turning what was once little more than a cottage industry into something that could potentially become a mass-market product that everyday shoppers seek out.
Diverse range
It's also interesting that Asda (rather than the likes of, say, M&S or Waitrose) was the first to pick the brand up, particularly as Asda and Arla have such a close working relationship and the retailer already offers a diverse range of milk choices in its dairy aisle.
But Free Range Dairy Farmers owner John Goodwin and Pasture Promise founder Neil Darwent are not content to stop with a listing with Asda. Goodwin told me today he is set to meet other retailers "this week" with the aim of rolling out the brand further.
The willingness of supermarkets to sell these products demonstrates just how far the dairy sector has come since the dark days of two years ago. There's been a load of innovation as retailers and processors have strived to add value to what was a sector in crisis.
But whether this type of product can mimic the success story of the free-range egg category will largely depend on the ability of the Free Range Dairy Farmers brand to communicate what the Pasture Promise means in practice.
Unlike free-range eggs, there is no legal definition on what constitutes free-range milk, and some experts are already asking if the launch of free-range milk in Asda will ultimately open door to milks produced via other production systems, such as barn-reared or enhanced welfare (as per the chicken and egg categories).
Agenda
This debate over segmentation of production methods is already something clearly on the NFU's agenda.
While welcoming the launch of Free Range Dairy Farmers today, NFU chief dairy adviser Sian Davies stressed it was important that free-range products did not denigrate other milk production systems.
She was also at pains to point out the vast majority of dairy cows do, in fact, graze outside for large parts of the year – something Jamie Oliver neglected to mention when he championed free-range dairy on his show in January.
The final word on this debate, however, will be the consumer's. Regardless of what free-range system is used or who lists the milk, if it doesn't sell, it's a debate that could be over as quickly as it has started.