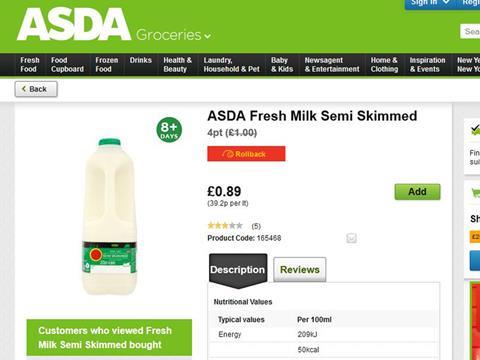 Dairy farmers have hit out at Asda cutting a four-pinter to 89p this week - and have warned wider adoption of the price could devastate the UK dairy industry.

Asda slashed the price of four pints of own-label fresh milk on Monday (5 January) from £1 as part of a £300m promotion. It joins Iceland and Aldi in selling four pints of milk at 89p, with Lidl selling four-pinters at 95p.

Sainsbury's, Tesco and Waitrose are continuing to sell four pints of milk for £1, with Morrisons offering four-pinters on a three-for-£3 promotion. The price has not shifted at Sainsbury's or Tesco this week, despite both announcing a raft of cuts on other products, though industry insiders say they expect other retailers to follow suit.

Dairy expert Ian Potter described the devaluation of milk as "devastating," and said it would likely lead to a "fierce attack" on prices from other mults. "They will either price match or top trump the 89p price," he said. "I don't believe milk will be singled out to be devalued, but it will be a key basket item in what will be an aggressive post-Christmas price war," Potter added.

Asda said it would be absorbing the cost of this price cut and was "not changing the way we pay our milk supplier, Arla."

But NFU dairy board chairman Rob Harrison said the price cut had left the NFU dairy board "incredibly angry and frustrated". He added: "This has a continued detrimental impact on the dairy industry."

James Hole, co-ordinator for protest group Farmers for Action, warned the possibility Asda's move could be mirrored by its rivals could send farmers - already under pressure from recent milk price cuts - out of business.

"Retailers need to understand the industry is in crisis," he said, adding that the reduced number of UK dairy farmers could soon struggle to satisfy demand.