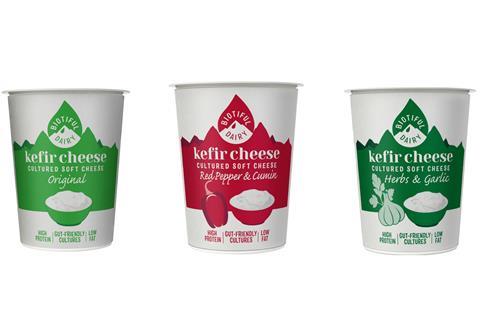 Gut health brand Biotiful Dairy has made its first foray beyond cultured yoghurts with the launch of a kefir cheese.
The spreadable soft cheese, which is said to contain more than 40 different cultures and billions of bacteria per pot, will be made with British milk and authentic kefir cultures.
It is principally aimed at the so-called 'al desko' convenience lunchtime occasion – either as an accompaniment to salads or as a topper on jacket potatoes – and comes in at 30 calories per 30g serving.
Rolling into more than 250 Sainsbury's stores from 18 March, the cheese will be available in three 'naturally-flavoured' variants: Original, Herb & Garlic and Red Pepper & Cumin (rsp: £1.50 / 150g).
"We are really excited to be bringing our expertise in gut health to a new category," said Biotiful founder Natasha Bowes.
"The soft cheese category has been crying out for innovation, and we have the right product range to bring excitement to shoppers, who are looking for better nutrition, coupled with great flavour in a convenient format."
Waitrose will also stock the products from April.
The launch comes after Biotiful posted another strong year of sales growth with its existing range of drinkable kefir and quark products.
It recorded the largest amount of growth out of the top 10 biggest yoghurt drink brands, adding almost a third to its market value which took it to £13m [Nielsen 52 weeks w/e 28 December 2019].
Biotiful also saw a big boost to its volume sales, which skyrocketed by 48.9%, meaning it is now the third biggest shifter of units in the category.