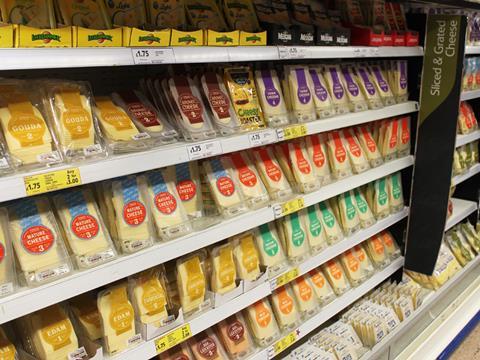 Brits splurged an extra £29m on cheese over the past 12 months, pushing the category back into value growth for the first time in two years, The Grocer can reveal.

Total value sales of cheese grew to just under £2.8bn with volume sales rising by 1.2%, buoyed by strong own label performance [Kantar Worldpanel 52 w/e 13 August 2017].

With the exception of territorials and blue cheese, own label is growing ahead of branded cheeses in most sub-categories, with total sales climbing by £58.3m to £1.7bn. Bestseller cheddar enjoyed a 2.8% rise to £863m, while own label continental cheese (excluding blue) saw value sales grow by 6.2% to £405.3m.

It follows further growth by the discounters. Aldi has increased its share of cheese sales by 12.5% to 7.3%, while Lidl's market share is up by 14.3% to 6%.
"Aldi and Lidl have both contributed to own label growth in cheddar, enjoying double-digit growth as they manage to entice shoppers away from branded favourites," said Kantar analyst Faith Ayomoto.
The past year has been less rosy for cheese brands, which saw sales dip by another £29.4m to just under £1.1bn, driven by a £36m to £502.2m fall in cheddar sales and a £3.8m fall to £123.2m for soft white cheese.

However, half the top cheese 20 brands are now in growth, and market leader Cathedral City has slowed its decline in value sales from £14.8m last year to just £760,000 [IRI Grocery Outlets 52 w/e 17 September 2017].

Much of this improved performance can be explained by the brand's focus on snacking, and its investment at shopper level, rather than in above-the-line advertising, said Dairy Crest marketing director Lee Willett, who admitted the brand had "left out adult snacking for too long".