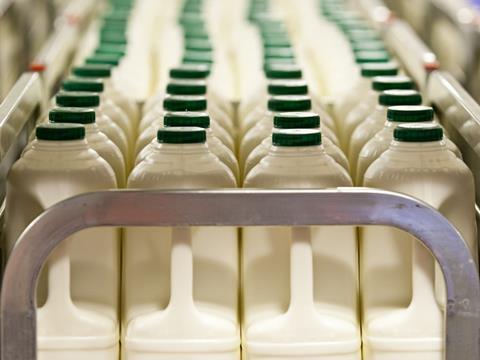 The UK's leading milk bottle recycler has accused the dairy industry of being "willing to walk away from the Diary Roadmap" by refusing to agree on a new pricing structure for recycled materials.
The Guardian published an article yesterday warning that Closed Loop Recycling, which claims to supply 75% of the recycled plastic (HDPE) used for milk bottles, is on the brink of collapse.
Chris Dow, Closed Loop CEO, told journalists that a slump in oil prices has pushed down the cost of virgin material, making recycled plastic a more expensive option. He claimed elements of the dairy supply chain were unwilling to pay the extra 0.1p per two-litre bottle for recycled packaging, effectively making the business unviable.
Closed Loop had hoped the media coverage would encourage supermarkets and processors to agree on a new way to price recycled plastic. However, Dow said today there has been no industry commitment so far despite Defra minister Dan Rogerson calling for action.
"We understand that there are high level discussions between The Minister, WRAP, DEFRA and top level representatives of the supply chain, and we know that there is a solution on the table that will stabilise the market and long term sustainability of recycled HDPE and the Dairy Road Map," he said.
Dow warned that Closed Loop was "running out of time" to find a political solution because Parliament dissolves on Monday.
Closed Loop claims that unless an agreement is reached, it will be forced to call in administrators, and the industry would have to switch to using 100% virgin plastic "virtually overnight" because there is no other European supplier of HDPE capable of meeting supply chain needs.
Speaking today on behalf of the dairy industry, Dairy UK chief executive Dr Judith Bryans said: "Under the Dairy Roadmap, dairy companies are working hard to achieve the target of 30% recycled material in HDPE milk bottles and there will be further progress in the future.
"We are keenly aware that the plastic recycling industry is facing difficult times and we have every intention to meet our targets. The dairy industry is one of several industries in the UK that use recycled plastic and we strongly urge all other sectors to make every effort to meet their own targets.
"In the long run, and to ensure a sustainable future for the plastic recycling sector, the Government may need to take a closer look at all the mechanisms in place to ease the pressure on plastic recycling companies and review the current regulatory system.
"It is crucial that all sides of the supply chain work together with government to achieve these results."