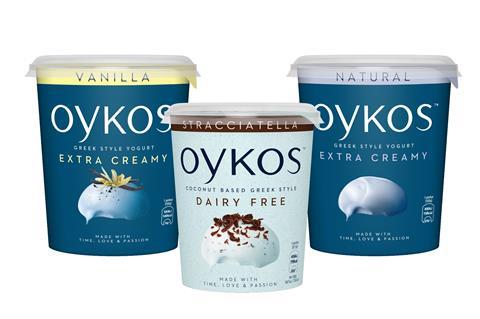 Danone has revamped its Oykos Greek-style yoghurts brand through the addition of its first plant-based variant and larger pack sizes.
The indulgence-focused brand said it had launched the NPD to capitalise on 14.9% year-on-year value growth in for dairy alternatives [IRI 52 w/e 3 Oct 2020], as well as the rise of in-home occasions since the coronavirus pandemic began.
Certified vegan, Oykos Dairy Free Chocolate Stracciatella contains a coconut milk base with vegan chocolate shavings. Coconut was chosen owing to its "creamier texture" than other plant-based bases.
It will be available nationwide in Sainsbury's and Waitrose this week in a big pot format (rsp: £2.50/350g).
"While the trend for indulgent dairy alternatives is on the rise, we know that taste can be the biggest barrier to purchase in the plant-based category," said Sarah Dossett, marketing director for Danone Essential Dairy and Plant-based.
"With its expertise in luxury indulgence and delivery of great taste, Oykos is stepping into the dairy-free aisle to help satisfy these consumers with a delicious and creamy dairy alternative in stracciatella dessert flavour."
The launch follows two major plant-based moves from Danone in 2020 through the launch of its Actimel 100% Dairy Free range in July and an oat-based Activia variant in February.
Oykos has also unveiled big pot variants of its dairy Greek-style yoghurts.
Coming in Natural and Vanilla flavours, the 450g pots are said by the brand to be fully recyclable and are available in Morrisons stores UK-wide (rsp: £1.50).
Danone said it had decided to introduce the larger SKUs owing to its anticipation of a continued rise in in-home occasions due to Covid-19.
It pointed to Kantar Usage Panel data comparing total in-home and carried out occasions with the previous year, which showed eating of desserts at home had grown by a third [Kantar 4 w/e 19 April 2020].