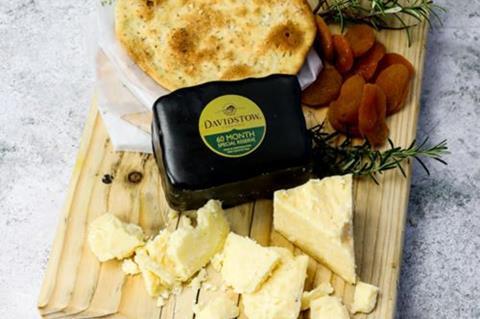 Davidstow has launched a range of cheeses exclusively to its new DTC website as it seeks to reignite sales following a tough 2020.
The Cornwall-based premium cheddar brand has unveiled a new 40-month-old Davidstow Reserve as well as a 60-month-old Davidstow Special Reserve – a cheese said to only usually be available to high-end chefs due to the complexity of producing it and the limited volumes available.
Both are available in hand-wrapped blocks and wax-covered ingots via Davidstow's new website, which launched last Friday (18 December).
The online offering also includes gift sets containing Davidstow cheddars paired with locally sourced produce, including Cornish crackers and chutney, as well as an exclusive branded presentation slate.
"E-commerce has seen unprecedented growth since the onset of Covid-19, with new consumer segments embracing online shopping, notably older shoppers who might previously have shied away – this demographic is our core target audience for Davidstow," said Davidstow brand controller Jonathan Westlake.
"Their behavioural shift offers an opportunity for us to widen our reach among our core consumer segment and to own the relationship more directly, as well as making our unique aged Davidstow profiles accessible to a wider audience."
Westlake added Davidstow wanted to make a "clear distinction" between its new DTC site and its existing retail offering. He said the website would provide a "great test-bed" for the brand to gauge consumer appetite for its more niche products.
Davidstow has endured a tough 2020 in the retail sphere. According to The Grocer's Top Products Survey, the Saputo-owned brand dropped out of the top 20 cheese brands with sales values down 13% (£1.4m) and volumes dropping 16.4% [Nielsen MAT 52 w/e 5 Sep 2020].
Speaking to The Grocer in July, Saputo explained the brand had seen sales fall as the dairy giant had been forced to prioritise its higher volume offerings, such as key Cathedral City SKUs, due to the high levels of demand seen during the first phase of the coronavirus pandemic.