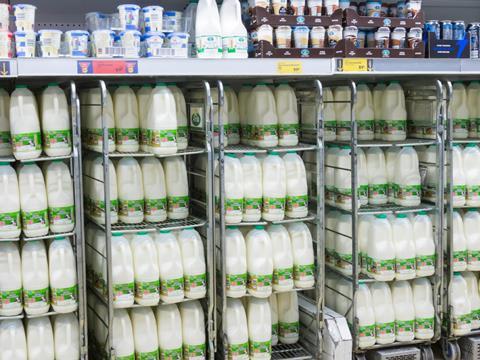 Liquid milk is a highly competitive business, so when retailers change suppliers the entire sector sits up and takes notice.

Last week's news that Aldi has moved the bulk of its own-label milk contract from Müller to Arla was no exception.

The new contract - effective from October - will see Arla supply three-quarters of Aldi's own-label milk.

It comes on the back of Arla winning several other major contracts over the past two years, including a new three-year deal to supply Asda. Over that same period, Müller has lost an estimated net 300 million litres from the likes of Morrisons and Sainsbury's.

So does Aldi's decision to make Arla its main supplier mean the dairy co-operative now has the upper hand over its German-owned rival?
Not so fast. While Arla has picked up momentum in recent months, Müller continues to hold the hugely valuable Tesco contract, which it picked up as part of a "game changing" strategic partnership with the retailer back in 2016. That alone is worth an estimated 730 million litres.

Working out how liquid milk volumes are split between Müller and Arla across the other UK retailers is tricky, given such figures are jealously guarded for commercial reasons.

However, estimates by analyst Ian Potter and research by The Grocer (see graphic) suggest Müller continues to have the upper hand in volume terms. It supplies an estimated 1.8 billion litres to the 10 largest supermarkets compared with 1.5 billion litres for Arla.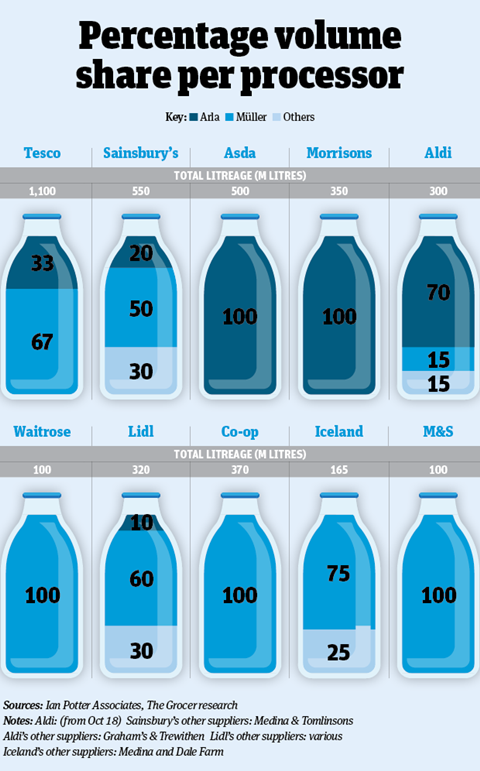 Having said that, there's no denying Arla has made significant gains since February 2016 on the back of an aggressive campaign to fill capacity at its huge Aylesbury dairy and find a new home for the 200 million litres it lost when Tesco and Müller went into partnership.

It sealed a new three-year deal to supply Asda in February 2016, followed by a major supply deal with Morrisons, which comes into force in March.
Smaller dairy suppliers have also recently managed to pick up volume with the mults, as Müller was required to effectively sub-let some 100 million litres of capacity at its Severnside dairy to other processors as a condition for its acquisition of Dairy Crest's milk business in December 2015.

It's all part of a major "rebalancing" of what has become a consolidated milk market, says one senior industry source. Müller's share of supermarket milk business was bound to dwindle. "With Dairy Crest out of the picture in liquid milk, the likes of Sainsbury's have looked to diversify supply to include more of a mix," suggests the source.

But the changes we've seen in the past two years aren't purely down to rebalancing and attempts to ensure Müller doesn't become too dominant.

Arla has been pushing its farmer-owned credentials hard, a move that has resonated well with several retailers. It's also been working on delivering more "tailored solutions" to its retail customers, says senior VP for sales Ash Amirahmadi.

Just as importantly, Arla has looked to leverage the success of its branded portfolio to enable it to compete on price in own label, suggests John Allen of Kite Consulting.

At the same time, Müller's profile has suffered since the departure of high-profile boss Ronald Kers last May - Kers' successor, Uwe Sommer, lasted just three months, and the dairy company has been without a group CEO since.

However, with the Dairy Crest integration now completed, the tide could be starting to turn in Müller's favour again. Expect more jockeying between milk's two biggest players in the months ahead.