Margarine and butter alternatives are on a very slippery slope. Over the past year in the butter & spreads category, only butter has achieved value and volume growth. Sales of all other sub-categories have slumped [Kantar Worldpanel 52 w/e 14 April].
Nowhere has the slide been sharper than in 'healthy', family-orientated spreads, down 7.4% in value on volumes down 3.3%. The disastrous reformulation of Flora, which sparked a backlash that's cost the UK's biggest marge brand £24.2m in lost sales [IRI 52 w/e 30 March], clearly did not help.
But margarine's woes run far deeper than the travails of a single brand. While butter has enjoyed a resurgence off the back of the home baking trend and the foodie cues and provenance of many leading brands, margarine has had something of a PR nightmare as health concerns over synthetic ingredients have come to the fore. It's also suffered from a distinct lack of NPD and intense promotional activity from butter brands.
But the real issue is that margarine and healthy spreads have fallen out of fashion. So what can the margarine brands learn from butter?
Price has played a key role in butter's gains over the past year. "A narrowing price gap between butter and margarine, as well as evolving consumer habits, are key drivers behind the margarine decline," says Tim Eales, strategic insight director at IRI, pointing to the 3.4% decline the price differential between butter and margarine in the past year. "The declining sales of margarine must be a concern for the industry."
But as milk prices continue to rise, how long the low butter prices can be maintained is a matter for debate. The intense promotional activity that's characterised the past year, with the four most promoted butter brands having increased their deal activity by 27.2% combined [Assosia 52 w/e 30 April], doesn't look sustainable in the face of such inflation.
Health
Butter will have to play to its strengths if it is to continue to steal share from margarine. But butter has plenty of advantages over its rivals at present, believes Stuart Ibberson, business unit director at Arla Foods, which owns Anchor and Lurpak.
"Consumers are increasingly moving towards more natural products and away from products such as margarines that are often packed full of additives," says Ibberson. "More consumers are following an 'everything in moderation' approach and take a more holistic view on health."
"Consumers are moving away from margarine, which is often packed with additives"

Stuart Ibberson, Arla Foods
And consumers are increasingly interested in - and swayed by - where those natural products come from.
"This year has seen unprecedented consumer interest in provenance and supply chains," says Adam Mehegan, senior shopper marketing manager at Dairy Crest.
The company is attempting to revive its Country Life brand, which has bucked the past year's overall growth in butter with a 3.2% value decline on volumes down 2.8% [IRI], by making more of its British credentials. In June, the brand was the main sponsor of Open Farm Sunday 2013, a nationwide event in which families were invited to 350 farms across the country to learn how their food is produced. "Research shows 78% of consumers would prefer to buy British products if available," adds Mehegan.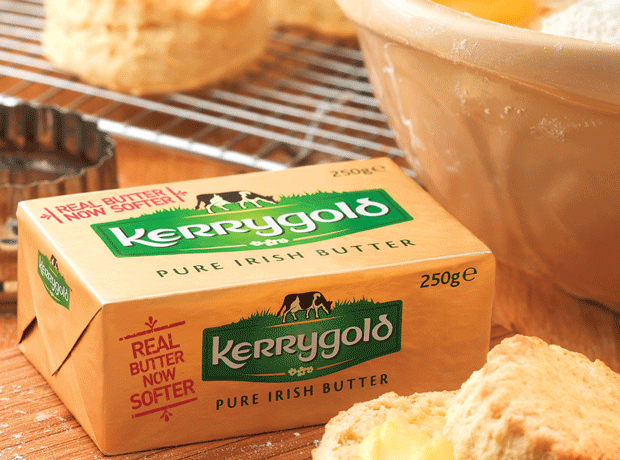 Irish-owned Kerrygold is also playing the provenance card following the launch of Kerrygold block butter, a softer alternative to hard block butter, and its Land of Better Butter campaign - the brand's first national advertising campaign in more than two years - in June 2012. The brand created The Butterman, a hero of Irish folklore, in a TV ad, which first aired in September 2012 and was such a success it returned to screens in February 2013.
"The Butterman communicates the pride and dedication Kerrygold farmers take to ensure their cows eat the very best Irish grass, which creates the very best Irish butter," says Mike Harper, brand director at Kerrygold. "We want consumers to understand why Ireland is the land of better butter and how the lush green pastures play a key part in producing a top quality product."
"In times of intense competition and in light of the market, we chose to support Clover"

Adam Mehegan, Dairy Crest
It would appear consumers do understand. Kerrygold says after The Butterman ad's first airing, its value share of the block butter market more than doubled, and in the months that followed that share exceeded 8%, a 68% rise year-on-year.
Provenance has also played a key role in Anchor's 5.3% growth on volumes up 10% [IRI], claims Arla. In August 2012, Arla moved Anchor's production from New Zealand to the UK and began making the brand's block butter at Westbury Dairies, in which it holds a stake, and packaging now comes complete with a 'Supporting British Farmers' strapline. Plans are under way to migrate Anchor's entire portfolio to the UK.
But it's not just consumers' desire for a more natural and traceable product that's driving sales of butter. The 'Mary Berry effect' has resulted in home baking becoming an increasingly popular pastime in homes across the country, and interest shows no signs of waning anytime soon.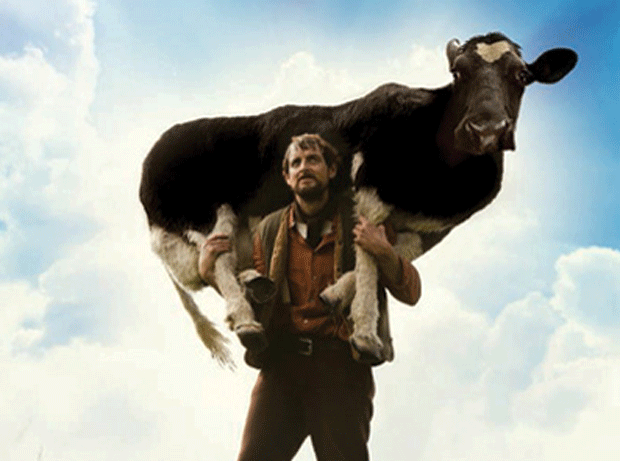 Kerrygold ad spend soars for Butterman
Shelling out on TV ads has paid off for Kerrygold. The brand upped ad spend by 428% in 2012 when The Butterman, a hero of Irish folklore, made his debut on TV in September (pictured). In launch month, Kerrygold says its value share of block butter surged 134% year-on-year. The ad proved such a hit it went back on air in February.
Arla might have cut budgets for Lurpak and Anchor by 22% and 36% respectively, but sales still soared and this year both are backed by significant TV advertising. Lurpak's campaign, launched in February, focuses on home-made dishes. Anchor's Taste Like Home campaign, also launched in February, celebrates 'kitchen moments' and brings together butter, spreadable and squirty cream on screen for the first time.
"Butter is a key component of the home baking category," says Mehegan, adding that research carried out by Dairy Crest shows that seven out of 10 purchases of raw baking materials are by consumers who are buying ingredients specified by a recipe.
Lurpak is looking to capitalise on this. The brand ran a 'gift with purchase' promotion with Asda in 2012, in which shoppers were presented with a brownie tin and recipe card when they bought two packs of 250g Lurpak block butter. The brand has also relaunched its Bake Club, a website offering consumers tips and recipe ideas from a range of professional mentors, which encourages members to share pictures of their culinary creations.
Sister brand Anchor, which sponsored ITV's prime-time Food Glorious Food programme in 2012, relaunched its 250g unsalted block butter in October in response to growing consumer demand for unsalted butter for home baking.
"The format has already grown to become worth almost £3.5m in just nine months of sale," says Arla's Ibberson. The brand has also reinstated its Anchor Reward Scheme, in which consumers earn points and swap them for baking-related products including Anchor-branded oven gloves and whisks.
And it's not just the bakers that butter brands are targeting. Foodies are also in their sights. In 2012, Lurpak took part in an initiative with Booths that saw it stocked in the fresh fruit and veg aisle and promoted as the ultimate accompaniment to veg in a bid to appeal to foodies. The brand also ran a 12-month campaign with Observer Food Monthly, in which columnist Edith Bowman featured a recipe using a seasonal vegetable and Lurpak each month.
Foodies
In a similar vein, Dairy Crest is this month bringing back its picnic app as part of its summer campaign for Country Life, in which shoppers can download recipes for foodie picnics. The brand is also resurrecting its 'Buttermen' cartoon characters (not to be confused with Kerrygold's Butterman), who last made an appearance in 2001. The four butter-coloured Buttermen will feature on packs of block and spreadable Country Life as part of the brand's Luvverly Lunches campaign, giving shoppers the chance to win picnic kits.
"With Flora we will be focusing on the lunch in-home and lunchbox sandwich occasions"

Adrian Adams, Unilever
Such activity - coupled with a whopping 254.3% spike in featured space promotions on Anchor over the past year [Assosia] - appears to have paid off for Arla, whose Lurpak and Anchor brands are two of the only three brands in the top 10 butters and spreads to have achieved value and volume growth [IRI]. The third brand in value and volume growth is Clover, although value is up just 0.1% - worth just £50.6k to the brand - on volumes that inched up 1.5% [IRI].
Dairy Crest attributes much of Clover's growth to NPD including Clover Block, launched in January 2012 in a bid to tap the home baking trend, and Clover Seedburst (launched in July 2012), and to focusing on the brand over and above its sister variants Country Life and Utterly Butterly.
"In times of intense competitor activity and in light of the performance of the market, Dairy Crest has actively chosen to support Clover, hence the success of the brand in a declining market," says Dairy Crest's Mehegan.
For evidence of the competition's activity, look no further than the £29m Unilever forked out on reformulating Flora in January 2012. But while Dairy Crest's initiative has put Clover in growth over the past year - just - Unilever's move to make Flora 'healthier and tastier' backfired spectacularly, with the brand's value sales plummeting 11.1% on volumes down 7.4% [IRI].
Reformulation
In June, Flora's dire sales performance - combined with a litany of complaints from disgruntled consumers about the brand's new taste on social media - prompted a volte-face from Unilever, which said it would be reverting to Flora's original recipe. The move will be backed with a new campaign targeting sandwich-making consumers specifically.
Goats win friends with 'alternative' butter
Sales of 'healthy' spreads might be sliding but goats butter is winning sales. Cheshire-based Delamere Dairy says value sales of its organic goats butter are up 8% year-on-year thanks to consumers seeking alternatives to dairy butter for health reasons.
"Goats butter is a speciality product at a price level similar to standard cows butter and consumers are recognising this as good value," says Ed Salt, MD at Delamere Dairy. The dairy has secured listings for its lightly salted goats butter in Booths, Morrisons, Nisa and Spar, and supplies M&S own label.
"With household penetration of 53% in the UK, we aim to grow the brand by encouraging use in sandwich occasions. In particular we'll be focusing on tapping into the lunchtime in-home and lunchbox sandwich occasions, where the opportunity for growth is strongest," says Adrian Adams, senior category manager for chilled food at Unilever. The relaunch will be supported by a Back To The Taste You Love campaign in which more than one million vouchers will be given to shoppers and a money-back guarantee offered.
The brand is also hoping to pull at the nation's heartstrings through its Flora Pro.activ range after launching a three-year partnership with the British Heart Foundation in 2012. The £3m Love Your Heart campaign aims to raise awareness of heart disease among women by encouraging women to check their risk factors and make diet and lifestyle changes through TV, press, radio and social media advertising and in-store activity. The brand is also donating £750k to the charity over the next three years to support its work.
All this hasn't helped put Flora in growth - or indeed the larger, cholesterol-lowering spreads category, which declined 3.9% on volumes down 2.4% [Kantar] - however. Arla's Ibberson suggests this is partly down to the bad press margarine has been getting of late. "Earlier this year we saw margarines come under fire by the national press, which increased consumer awareness of the synthetic ingredients and additives they can often contain," he says. "This in turn boosted the profile of natural, good quality butters and spreads even further."
Indeed olive spread - with its cholesterol-free credentials - is the only spread other than butter to have enjoyed volume growth (of 6.1%) in 2012, although, like margarine and diet spreads, value is down, by 2.7% [Kantar]. "Growth in the olive sector is entirely bolstered by Bertolli, which had tremendous buyer growth of 40.8% versus 2011," says Kantar Worldpanel analyst Sydney Engle.
Deflation
Volume growth in olive spreads isn't all down to the sub-category's health credentials, however. Low prices have also helped drive sales. While Bertolli's use of featured space promotions over the past year has remained the same as the previous year, depth of deal has increased 8.9% [Assosia] and the brand has undergone the largest average price cut of the category's 10 bestsellers, of 9.6% to £3.17 a kilo, meaning it is now undercutting Flora by 2p a kilo [IRI].
"Brands' market share is driven by NPD. Our NPD is tailored to discourage trading down"

Mike Harper, Kerrygold
Such deflation reflects the overall pattern among the category's 10 biggest brands, of which only Stork has raised its average price. This has left own label hard-pushed to compete. Brands hold an 84% value share of the market while own label accounts for 16% - down 2.8 points on the previous year [Kantar]. "Sainsbury's own label leads with a 38.9% contraction on its own-label portfolio and Morrisons and Tesco also struggle, each declining 22% in value," says Kantar's Engle.
Perhaps surprisingly, own-label butters and spreads have also suffered as a result of the horsemeat scandal, believes Ibberson. "In light of recent incidents in the food industry, consumers are now increasingly seeking confidence and reassurance in the products they buy by opting for brands they can trust," he says. "This, coupled with engaging activity from brands that has supported key trends in the market has continued to drive sales for brands."
There has also been a distinct lack of own-label NPD. "The large percentage of the market share held by brands is driven by NPD," says Kerrygold's Harper. "Our NPD strategy was tailored to meet real consumer needs and discourage loyal consumers from trading down. This was further encouraged by the fact that Kerrygold products contain a unique selling point [provenance] that is not currently offered by own-label products."
Price rises?
Tesco seems to have recognised the importance of provenance. Last July, it listed Yorkshire brand Dales Butter (see right). "We are very excited to introduce Dales Butter into our Yorkshire and Humber stores, providing our customers with a regional, premium quality product," says Simon Dryell, senior buying manager of regional sourcing at Tesco. "We're dedicated to supporting regionally produced products."
Butter brands such as Dales are continuing to pin their hopes for future growth on the home baking trend. "The home baking category has seen 5% value growth year on year and butter is a key component thereof," says Dairy Crest's Mehegan.
Of course, home baking alone will not sustain butter's growth going forward. Brands will need to invest heavily if they are to continue to meet consumers' evolving needs. Price is less of an issue than it used to be especially when it comes to compelling NPD, contends Adams at Unilever. "The influence of price on purchasing has decreased, with shopping patterns demonstrating that consumers will pay more for a perceived benefit of health, taste or convenience," he says.
Kerrygold's Harper adds that the way the category is laid out in-store could also help generate future growth. "There hasn't been any significant change in merchandising, butters, spreads and margarine in recent times, which highlights an area for improvement that could help engage consumers and help increase base sales," he says.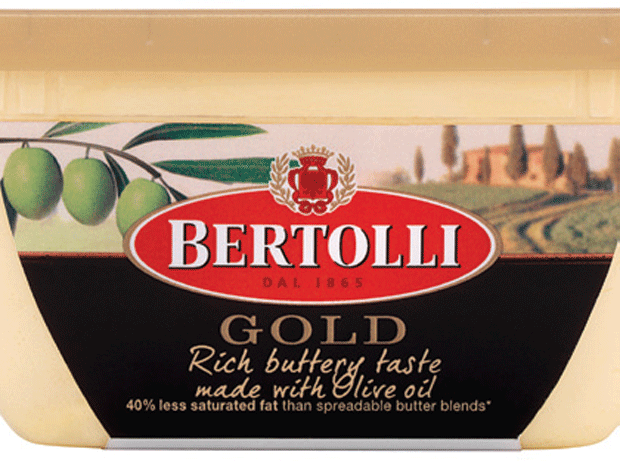 One thing is for certain: with milk and vegetable oil prices set to continue to rise over the coming year, the low shelf prices we have seen over the past year in butters and spreads look unlikely to continue. Bertolli, particularly, could be facing the squeeze, as the dire Spanish olive harvest in 2012 continues to put pressure on supplies.
Butters and spreads brands will have to continue to give consumers compelling reasons to buy… other than just low prices.
Focus on butter & spreads: Moove over margarine
1

Currently reading

Focus on butter & spreads: Moove over margarine

2

3

4

5

6

7