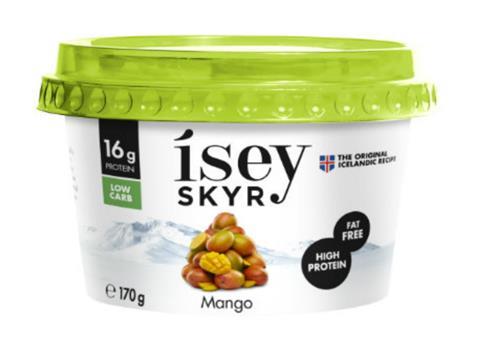 Icelandic dairy co-op MS Iceland has expanded its Ísey Skyr brand in the UK with a new mango-flavoured variant, and in a rare victory for brands, made its debut in Aldi.

The mango-flavoured skyr yoghurt went on sale exclusively in 300 Aldi stores this month, alongside the brand's core vanilla, strawberry and blueberry flavours (rsp: £1.25/170g).

Ísey Skyr first hit UK shelves in February 2016, when the range, formerly known as Icelandic Skyr, went on sale in 199 Waitrose stores. Larger pots of natural flavoured skyr also went on sale in Costco earlier this year.

MS Iceland rebranded the range as Ísey Skyr in the spring in a bid to differentiate the brand from "copycats".

Ísey is a female name that literally translates as 'Iceland', and pays tribute to the women who guarded the traditional Icelandic skyr recipe in times of conflict, said MS Iceland spokesman Jón Axel Pétursson.

The range's expansion followed the success of its first foray into the UK with Waitrose, Pétursson added, with sales on track for 100% growth year on year.

"As with our markets across Scandinavia, we are experiencing growing demand from younger, health-conscious consumers," he said.

The snack contains 15g-18g of protein per 170g pot thanks to a manufacturing process that uses 3.5 litres of milk to produce 1kg of Ísey Skyr. Yoghurts traditionally use closer to one litre of milk for every 1kg.

MS Iceland has clashed on several occasions with Arla over its rival's German-made Arla Skyr range. It ran an ad campaign in 2015 mocking the Arla product's authenticity, and won an injunction in Finland during the same year that prevented Arla using the word 'skyr' in Finland after successfully arguing it owned the copyright.