The butters and spreads category has suffered a painful fall from grace over the past year. Although total category sales are up 3.9%, it's a pallid performance in comparison with last year's 13.7% uplift. And adding insult to injury, volume sales are in decline, whereas last year they were in growth.

While the whole market is responsible for the volume decline, it's the brands that are letting the side down in value terms, posting 3.4% value growth compared with own label's 6.1% increase.

Brand leader Lurpak has outperformed the category, but its rate of growth is half that of 2011 - and increased value sales mask a slight decline in volumes. Given the splash Arla made in January with Lightest, its biggest Lurpak launch in a decade, it's a surprisingly muted performance.

Arla business unit director Stuart Ibberson blames "inflation in the market in 2011, a reduction in percentage sold on deal and changes in promotional mechanics". Lurpak has already kicked off plans to grow volume sales and to maintain its number-one ranking, he says.

Its Christmas activity includes a free Lurpak Mighty Meal Timer app, which produces a Christmas dinner timetable for shoppers, highlighting Lurpak's "central role" in the Christmas feast. A continuation of its long-running Good Food Deserves Lurpak campaign is also on the cards and there are "some very exciting plans for 2013 as well as a five-year NPD pipeline", says Ibberson.

It isn't the only brand reviewing its tactics in light of weaker sales. Second-placed brand Flora has recorded declines of 3% in value and volume sales - possibly in part due to the arrival of Lurpak Lightest, seen as a major rival to Flora Light.

The performance will be particularly disappointing for Unilever given the £29m it invested in a reformulation, rolled out in January, to enhance the spread's "taste and health credentials" - although, given the backlash against the new taste at the time, perhaps not entirely a surprise.

Unilever blames Flora's lacklustre performance on a long-term decline in category sales as shoppers broaden their product repertoires at breakfast and lunch. On the value front, it points to heavy promotional activity as a key factor driving value sales down.
"Anchor Unsalted Block will further capitalise on the baking and scratch cooking trend" Stuart Ibberson, Arla
In a bid to improve the brand's performance, Unilever has introduced promotions that it says emotionally engage with shoppers. Adrian Adams, Unilever senior category manager for chilled food, points to a recent on-pack promotion across Flora Original, Light and Buttery to win £1,000 worth of bikes instantly, which he says "tapped into the fact that leading a healthy lifestyle is important to families".

In contrast with Flora - and its own Arla stablemate, Lurpak - Anchor has recorded growth of 6.7% and 1.8% in value and volume respectively. Ibberson says its success has largely been driven by Anchor block butter, which has benefited from the growing popularity of cooking and baking from scratch. "The recent launch of Anchor Unsalted Block in October 2012 will further capitalise on this trend and increase Anchor's strength in the block market," he adds.

The launch was an interesting move by Arla, given that to date it has been Lurpak not Anchor that the company has pushed as the foodie's choice for baking. Ibberson also highlights growth in Anchor Spreadable, as well as Anchor's sponsorship of the 'real food' strand of the Good Food channel and an on-pack loyalty scheme, as helping drive growth.

The biggest development for the brand this year, however, was the beginning of a phased move of production to the UK, eroding the historic USP Dairy Crest's homegrown Country Life has held over Anchor. Not that Country Life, the fifth biggest brand in the category, is exactly running scared. Sales are up 9.2% in value sales and a similar amount in volume.

And Dairy Crest claims a TV burst this year and limited-edition Jubilee packaging for its block variants "resulted in strong growth and increased average weight of purchase for shoppers", with a new 750g pack targeting families delivering incremental sales and increasing average weight of purchase.

Dairy Crest has done even better with its other top 10 brand, Clover, which has racked up 11% growth in value and volume sales to leave it just shy of the £100m mark.

It might have broken through the barrier had Dairy Crest launched Clover Seedburst, a new spread containing a mixture of seven seeds and wholegrains, in July as planned - but the launch has been delayed after the company identified quality issues with the packaging.

Dairy Crest attributes the boost in Clover sales to a combination of NPD - a block format was launched in January - and clever marketing. "The return to TV of Clover's 'Love All Over' ad campaign, with support from the 'With Love From Clover' collector's scheme currently in the market, has supported the spread," says a spokeswoman.

Things are looking less peachy for Clover's stablemate Utterly Butterly, which has suffered a 6.9% fall in value and a 10.2% decline in volume. The Dairy Crest spokeswoman admits the brand has been affected by the "tough trading environment" in spreads, but says the company is confident it will deliver growth next year. "We have strong plans in place for 2013 and 2014, investing in both consumer and trade marketing to deliver an exciting new message from the brand along with some innovation."

With declining sales of Utterly Butterly, one might expect its direct rival, I Can't Believe It's Not Butter, to have benefited. Not so. ICBINB has suffered a fall in value sales - albeit, at 2.9%, not as severe a decline as Utterly. Unilever is tight-lipped about how it intends to improve ICBINB's performance, except to reaffirm that it is "committed to continuing to drive value into the category".

Retaining its place in the top 10 by £1.5m is Kerrygold. Thrown into value decline as volumes slumped 19.9%, the brand was hit hard by a Tesco delisting in October last year - but the company maintains it is getting back on track. "Since returning to Tesco in April this year, the most recent data shows Kerrygold has grown its value share by 60% and volume share by 68% versus 12 weeks a year ago," says Kerrygold brand marketing controller Alison Palmer, referencing SymphonyIRI data for the 12-week period ending 30 September 2012.

There are other encouraging signs of growth. Take Président, for example, which has recorded a 30.2% increase in value and a similar growth in volume and Flora Cuisine, a new concept when it launched in March 2011, which has racked up £4.9m in sales over the past year.

However, there's no doubting it's been a tough year. And for brand owners that rely on supplies of British dairy, things may get tougher yet. UK milk supplies continue to decline, and although UK wholesale butter prices in October were down 21.4% year-on-year, to £2,750 per tonne, they were up 1.9% month-on-month. There's also milk pricing to consider - it may not be long before the higher prices paid to farmers this year filter through to the retail price of butters and spreads.

The brands are going to need to work even harder on the NPD, marketing and promotional fronts if they are to restore the category to volume growth and post a more robust value uplift in 2013.
TOP PRODUCT 2012
Lurpak Lightest Arla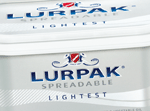 You can almost picture the Arla marketers scratching their heads. Lurpak. Lurpak Lighter. Lurpak Lightest! Eureka! The launch of Lurpak's lowest-fat spread yet was the brand's biggest in a decade, with an associated campaign cunningly riffing on a rainbow design of colourful, good-for-you foods, immediately establishing Lightest as a quality, healthy product. It seems to have worked: already worth £11.6m in sales, this new product is giving Flora Light a run for its money.