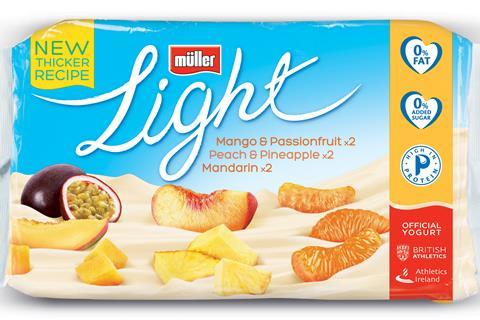 Müller Yogurt & Desserts has issued a major recall of 14 branded and own label yoghurts produced at its Market Drayton manufacturing plant, due to fears they may contain pieces of metal.
The dairy giant has recalled batches of its Müller Corner six-packs – with use-by dates ranging from 26 February to 4 March – in three separate flavour variants.
Müller has also withdrawn three separate Müllerlight flavour variants in six-packs and a single SKU variant with use-by dates between 7 March and 14 March; a Müller Rice six-pack in apple & raspberry with a use-by date of 8 March and a four-pack Müller Bliss mascarpone-style yoghurt, with a use-by date of 10 March.
A further five products made for Aldi and Lidl under their Brooklea and Millbona brands with use-by dates ranging from 26 February to 4 March have also been recalled.
Müller said the recall was "precautionary", with no other batches affected. The presence of "small pieces of metal" was possible in the yoghurts after staff identified a fault with a roller that supported belts used to transport fruit in the Market Drayton factory.
"The roller was misaligned, potentially causing small pieces of metal to drop into the fruit," the supplier said in a statement.
However, it stressed it had not detected any metal in samples from the affected batches. Consumers have been asked not to eat affected products, and to return them to the store where they were purchased for a refund.