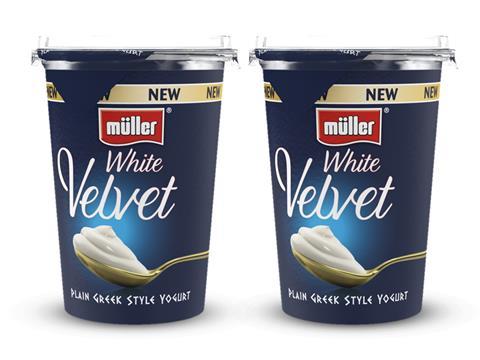 Müller is to enter the plain yoghurt category for the first time with the launch of big pot Greek-style yoghurt White Velvet later this month.

The yoghurt will go on sale nationally on 25 September (rsp: £1.60/450g) in standard and fat-free, and forms part of a new £100m investment by the dairy giant in its yoghurts & desserts business over the next three years.

White Velvet presented a major opportunity to "entice non-plain yoghurt shoppers and to reinvigorate the plain category", with consumption much higher in Europe than the UK, Müller claimed.

Research suggested the biggest barrier to purchasing plain yoghurt in the UK was taste, it added, and consumer testers had reacted positively to the "taste, thickness and creaminess" of White Velvet.

"Our goal is to make plain yoghurt more relevant throughout the day, and to attract new shoppers who trust us to deliver exceptional taste," added Müller's chief marketing officer Michael Inpong.

The £100m investment will see Müller upgrade facilities at its three sites in Shropshire, doubling the size of its Telford factory by 2020. It will also launch a raft of branded and own-label NPD, backed by a 25% increase in marketing budget.

Müller intends to further extend its Müller Light, Müller Corner and Müller Rice brands to broaden their usage occasions and availability. It will also build on its licensing agreement with Mondelez to develop its range of Cadbury products, including entry to as yet undisclosed "new segments" in desserts.

"This unprecedented investment will ensure an increasing portfolio of great yoghurt and desserts products made in Britain with milk from British farmers," said Müller Yogurt & Desserts MD Bergen Merey.