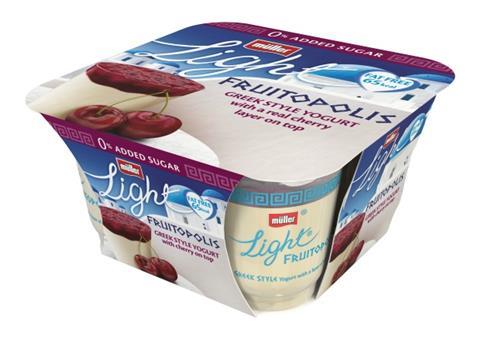 Müllerlight has continued its war on sugar by removing added sugar from its Fruitopolis range.
The fat-free range was reformulated last month, bringing the sugar content down from between 9.4g-10.1g per 100g to a total of 5.8g of naturally occurring sugars per 100g.
The sweetened Greek-style yoghurts topped with a fruit layer (rsp: £2.69/4x130g) are available in peach & passionfruit, strawberry and cherry flavours.
It comes a year after Müllerlight revamped its Greek Style range, removing all added sugar and lowering its total sugar content by 20%.
"As a business we're continuing to take significant steps, underpinned by our unprecedented investment, to not only reduce added sugar across our brands, but to empower consumers to make healthy, active and balanced lifestyle choices," said Müller chief marketing officer Michael Inpong.
"Since we launched Fruitopolis in 2012 and then reformulated our Müllerlight Greek Style range with 0% added sugar in 2017, the feedback has been really positive. We're delighted to introduce consumers to the improved Müllerlight Fruitopolis recipe."
Müller recently announced plans to invest £100m over three years to develop and market new branded and own label yoghurts and desserts. The company also hopes to grow its brands, including Müllerlight, with the aim of expanding the yoghurt and dessert category by £233m by 2020, it said.
The move comes ahead of Public Health England's reformulation targets for the yoghurt sector, which aimed for a 20% reduction in sugar content by 2020.