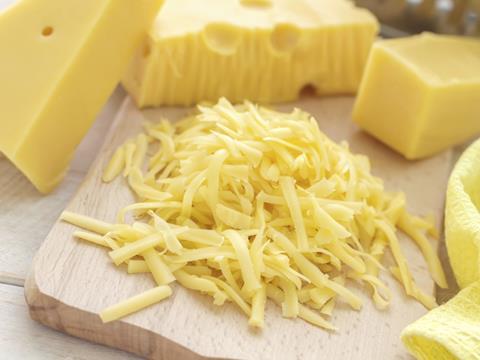 Tuesday (1 April) sees the start of the new quota year, and by all accounts it's going to start with a bang. UK milk production for February stood at 1,090 million litres - the highest on record. The last time we came close to this level was in 2002, when production hit 1,084.6 million.

March volumes will be similarly high, with forecasters expecting about 1,220m litres - again, the highest for that month since 2002 - and it is likely this record level of production will continue, weather permitting, into April and May, resulting in the largest spring flush for a decade.

The implications for dairy prices are significant, particularly for cheese. A lot of milk has been made into cheese recently, with a staggering 39,100 tonnes produced in January - a third more than last year. In February, the UK typically makes about 28,000 tonnnes of cheese and in March 32,000, but if January is anything to go by, we'll make far more this year.

And this will be on the back of the last four months - where we made 140,000 tonnes compared with 114,000 tonnes the year before. Meanwhile imports have only dropped 1,000 tonnes over the same period on 2012 (to 32,000 tonnes) and exports, at 43,000 tonnes, have been little different to 2012 and 2011.

Cheese stocks are building rapidly, and the market is reacting - so far the mild cheddar headline price is said to be holding up at about £3,200 to £3,300, but buyers know there's plenty of milk about and cheese being made, and prices are starting to head down. Meanwhile, the farmgate price for milk for cheese is still about 34 pence per litre, resulting in an unsustainable differential opening up in the sector that only a significant milk price fall can close. However, this is not likely to happen for a month or two yet, with Müller Wiseman's headline price having moved 1ppl this week to match Arla's.
Arabica coffee prices up 27% on last month
Coffee once again dominates the top of our table, as hot, dry weather in Brazil continues to cause anxiety over production levels. With Arabica production expected to fall 4% in 2014, prices are now up 27.3% month on month. Robusta also continues to climb.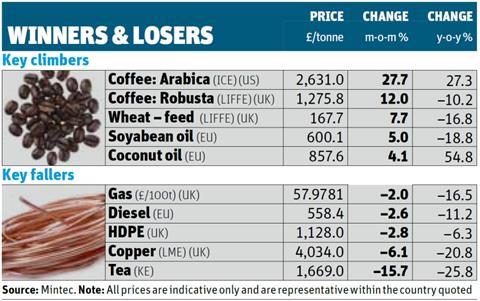 Wheat also continues to push higher, driven up by concerns over Ukraine, with feed wheat prices currently up 7.7% on last month.
At the opposite end of our table, copper prices continue to fall sharply amid reduced demand from China, with prices down 6.1% over the past month. Fuel prices also remain on a downward trend, largely because of the strengthening of the pound against the dollar. Diesel is now 11.2% cheaper than it was a year ago.
Prices Digest
Grain: Russia's annexation of Crimea is set to boost its annual grain harvest by about two million tonnes, Ukrainian newspaper Kyiv Post has reported Russian agriculture minister Nikolai Fyodorov as saying.
Climate: The UK will be facing hotter, drier summers and milder, wetter winters as a result of climate change, the Met Office has predicted in a new report. By the 2040s, heatwaves - like that seen in 2003 - could become the norm in Europe, it said.
Dairy: China will continue to have a shortfall in its milk production until at least 2015, Chinese dairy giant China Mengniu Dairy has predicted. The company this week reported profits of 1.63bn yuan for 2013 - up 25% year on year.
Fonterra: Meanwhile, New Zealand's Fonterra reported a 53% drop in half-year profits despite a 21% increase in sales, as capacity constraints meant it had to convert more of its milk into lower-value products instead of high-value powder.