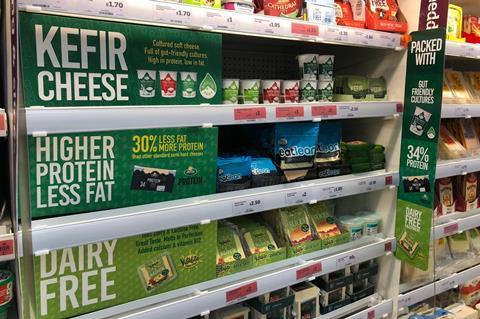 Sainsbury's has launched a new fixture into the cheese aisles of 101 stores, which aims to showcase innovation in the category.
The new hotspots, which rolled out last week, will showcase Kefir Cheese from gut health brand Biotiful, as well as Arla's Protein cheese and Vitalite's vegan alternative blocks for an initial seven-week period.
It resembles the gut health-focused yoghurt fixture Sainsbury's unveiled in February, with aisle fins and 0.5m shelf-strips outlining the USPs of the featured products. The products on display have also been put on promotion during the feature.
Biotiful – which was the first brand featured in the yoghurt fixture – said the launch was aimed at recruiting "more shoppers into the cheese category" and formed part of an increasingly prevalent strategy among the mults.
"Retailers are looking to create destination fixtures & features in store as they provide a unique point of difference," said Biotiful's founder, Natasha Bowes.
"Not only do these simplify the shopper journey, they also drive cross-brand shopping and increase basket spend. In addition, they bring excitement to the relevant category to deliver growth, so we do believe they will become more widespread."
Bowes added that the soft cheese category was "crying out for innovation" and that this fixture would provide a "wonderful opportunity" to buck that trend.
Citing JS Horizon data, Bowes said that Sainsbury's stores containing the Biotiful-branded gut health fixture saw value sales increases of the showcased products of between 12%-48% versus control stores over the three-month period.
The cheese category has been performing well during the lockdown, with almost all sectors having experienced double-digit value sales growth. The only exception was mini portions, which lost £4.4m, down 14% year on year, largely due to a reduction in on-the-go snacking [Kantar 12 w/e 14 June 2020].