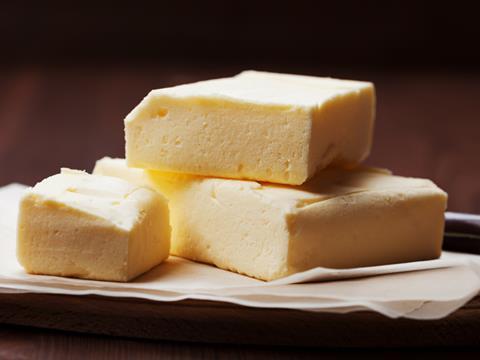 You'll never get a better bit of butter on your knife, apparently. But you'd better be willing to re-mortgage your house for the privilege, because a 250g block of Country Life butter will now set you back £1.80 on average in the mults – that's a whopping 40p more than it cost last November.
And that isn't the worst of it. Twitter is freaking out because a block of Lurpak is now £2 in Tesco, Asda and Waitrose. TWO WHOLE POUNDS. Even Lidl isn't a safe haven for butter bargains, having hiked its price for a 500g tub of Lurpak Spreadable to £3.19. Anchor is in on the act too, with a 250g block now costing shoppers an average of £1.75. And own-label butter is 33% more expensive than it was this time last year, with Tesco selling a 250g block for £1.60.
wonder what it's like to be financially stable cos i spent £2 on lurpak and last night had a dream that someone had used it

— Sophie Kirby (@sophiekirby_) November 10, 2017
In fairness, this shouldn't all come as a huge surprise. The Grocer first flagged up a looming butter crisis back in October 2016, when dwindling milk production, a shortage of fats and surging demand started pushing wholesale prices to record levels.
And things didn't improve this year. In July, Arla boss Peder Tuborgh predicted a butter shortage would ruin Christmas, and just last month Scottish shortbread makers held crisis talks as their margins got squeezed to melting point.
Nothing, however, makes British shoppers panic like a pertinent price point. And for butter, it seems that price point is £2. As one Tweeter pointed out, two-for-£2 deals on Lurpak used to be aplenty in the mults. So it's not surprising people are baulking at paying TWO WHOLE BRITISH POUNDS for a single block.
There is a bleak irony in the fact butter prices are surging just as Brits have decided to embrace its full-fat goodness again, after years of enduring bland margarine on the advice of health bods. (Put that in your songbook, Alanis)
Lurpak butter is £1.70 in Morrisons. £2 elsewhere. Get stocked up now if you don't use anything but Lurpak pic.twitter.com/a3hnvHENxr

— The Frugal Wife (@the_frugalwife) November 13, 2017
But while Twitter unites in horror at the injustice of it all, there are signs that the Great British butter crisis could well be on its way out.
While stocks are still fairly tight, UK butter prices eased to £5,050/tonne last month, according to AHDB. That's still pretty high, but it's going in the right direction.
UK milk production is beginning to stabilise, and a period of higher farmgate prices means farmers will have more cash to supplement feed their cows more this winter, which are both good signs for future supplies.
Of course, with the big fat question of the UK's departure from the EU looming on the horizon, supermarkets might decide to stick with higher price points for the foreseeable future. With bread makers like Kingsmill also warning of hikes in the face of surging wheat prices, buttery toast could become a luxury in post-Brexit Britain.