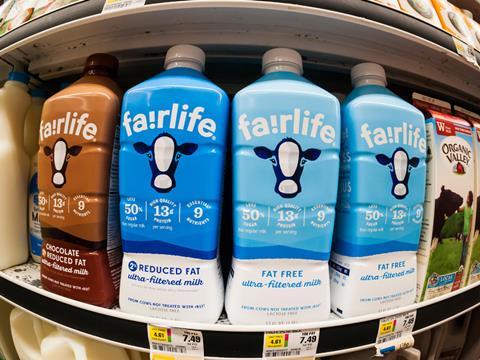 Coke selling milk in the UK? That'll never happen!
That was the stock response in February 2015 when a US dairy co-op launched what it described as a "game-changing" new milk Stateside – backed by the financial and marketing might of the Coca-Cola Company.
Fairlife milk – a low-fat, lactose-free ultra-filtered milk containing more protein and calcium than standard milk – sounded like a good idea to add value to the category, but with the UK dairy sector on its knees, the chances of that brand transferring to Britain's highly commoditised milk aisles were between slim and none.
Fast forward two and a half years, and Fairlife is making waves in the US, with incoming Coke CEO James Quincey stating in February that its investment in the brand was "paying off", as Fairlife built on first-year sales of $87.1m (£66.9m) to capture a third of the growth in value-added dairy during its second year.
We're still waiting for Fairlife to hit UK shelves. In fact, Coke was quite clear with me this week that it had "no plans" to launch in the UK – despite the fact it registered the brand name as a trademark with the Intellectual Property Office this month.
Indeed, a spokeswoman stressed registering trademarks "is a common practice to protect brands" – so that's that, then.
A very tasty dairy market
But if it did decide to come to the UK, it would be entering what has become a very tasty dairy market over the past two years, bolstered by a string of NPD in both branded and own-label milk, with innovation ranging from own-label farmers' milk to filtered and free-range.
While dairy farmers are still unhappy at the speed of the dairy market's recovery, new and added-value milk products by Arla alone contributed £95m in value to the category in 2016, the dairy co-op said in March.
Publicity around the crisis enveloping the dairy sector on the back of low farmgate prices over the past few years has also improved customer understanding of milk, and enabled concepts such as free-range milk to flourish – to such an extent that Arla even rebranded its flagship Organic Farm Milk as Organic Free Range Milk this month.
With this in mind, bringing the Fairlife brand across the pond would be a "smart move" says Hamish Renton, MD of food consultancy HRA, who adds there is still room in the market "if they execute it in the right way".
It's a sentiment shared by NFU chief dairy adviser Sian Davies, who says anything that promotes new thinking in the dairy aisle and adds value "should be welcomed".
And while there are well-documented dairy shortages at the moment, this won't be such an issue if farmers get the chance to supply Coca-Cola, Renton adds.
"There would be a queue of people looking to sell Coca-Cola milk. Availability wouldn't be an issue, as they would feel Coke would get enough out of the market," he suggests. "There's certainly room for another player on pitch and Coke clearly has the muscle to make it work. But it will have to get the execution right or else it could have another Dasani on its hands."
Of course, Fairlife in the UK is all completely hypothetical. But if Coke does change its mind, it could make for very interesting times in the dairy market indeed.