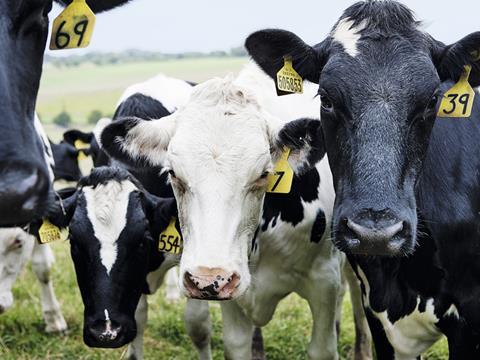 All dairy cows supplying milk to Waitrose will be pasture-fed for at least 100 days a year from this spring, the retailer has announced.
The new policy affects its standard own-label milk range - which is processed and segregated by Müller - and places a "minimum benchmark" on its dedicated supply group of 50 dairy farmers.
"Getting dairy cows outside and on grass pasture whenever possible not only produces great-quality milk but is a key aspect of good animal welfare, something we believe is of the utmost importance," said Waitrose director of agriculture Heather Jenkins.
The move was welcomed by Compassion in World Farming CEO Philip Lymbery, who described Waitrose as a "leader" among the mults with a policy to ensure cows lived a ­"happier, healthier life".
"Most consumers presume all dairy cows are allowed out on pasture," he said. "But sadly, this isn't the case."
The new policy was a "point of difference" for Waitrose, said NFU chief dairy adviser Siân Davies but she insisted there was "no proof" one grazing system was better than others. "What's most important is the management of the herd, and most cows in the UK do graze outside for the spring and summer months."
It comes as farmer network Free Range Dairy - which represents producers who graze cows outside for six months a year - secured its first distribution contract in London, and will supply milk to hotels, restaurants and caterers.