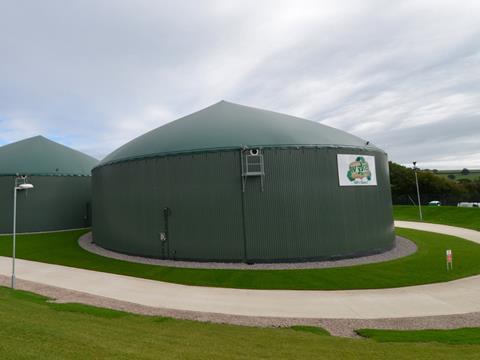 Wyke Farms has joined more than 100 anaerobic digester operators in a group litigation against the government's Valuation Office Agency for imposing "punitive" rate rises on the sector.
The West Country-based cheesemaker said a revaluation of rates payable by renewable energy operators by the VOA in February had seen its AD plant's rateable value rise by 91% year on year to £535k.
After taking into account a 51.2p in the pound discount via the VOA's non-domestic rate multiplier, Wyke's AD plant rate bill would rise from £140k to £265k this year, said rating expert and litigation organiser Chris Handel.
All AD operators with 'gas to grid' plants were affected by the rate hike, which ran into "millions of pounds", he added. Around half of the litigants were in the food sector either as a producer/supplier or as a waste operator.
Operators who were using AD plants to reduce their environmental impact were being treated "unduly harshly" by the hike, said Wyke Farms MD Rich Clothier.
Handel and Clothier pointed to the "inconsistency" around the Treasury's aim to triple the use of AD plants as part of the government's net zero plan, while another government department was in essence punishing businesses with a tax hike for investing in the plants.
"I'm saying to my farmers they need to invest in this technology, but these ratings inconsistencies are ruining the confidence of investors in the sector," Clothier said.
"We borrowed £17m to build this plant, but there is only so many times government can come for more money before we have to sell it," he said.
"It seems to be talking a good game on net zero and renewables, but at the same time its policies are schizophrenic at best. Our plant was opened by David Cameron and could be closed by Boris Johnson."
Handel said the AD operators were now in the early stages of litigating against the VOA over the increases and had been told by their QC they had a "good case".
The VOA had also told him the rates were being reviewed as part of the government's wider business rates review, though it "had indicated it would also defend its actions", he added.
"The VOA is just doing its job, but these increases fly in the face of government plans to reach net zero, and it is hugely unhelpful to the sector."
A VOA spokesman said: "We have worked with the professional representatives of anaerobic digestion sites to agree how these properties should be valued. We will implement decisions based on these discussions in due course."