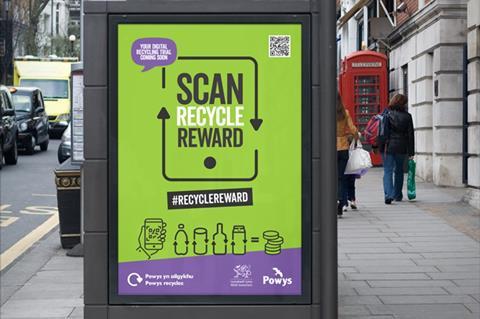 The first whole-town trial of a digital deposit return scheme (DDRS) has shown an overwhelming preference for bottles to be returned at home rather than at "outdated" supermarket reverse vending machines (RVMs).
Figures from the trial, carried out in Brecon, Wales, show around 75% of those taking part have been returning bottles and cartons at the kerbside, compared to 25% using return machines set up in retail.
Although the trial has not yet finished, having been extended until November, the organisation behind it claims the evidence already strongly suggests a digital system could save the industry "hundreds of millions" by allowing the bulk of returns to come from home.
They say growing evidence suggests plans for a network of RVMs in supermarkets and other locations are obsolete even before launch, with the Scottish government having shelved its launch earlier this year.
The trial follows calls from the BRC for the UK government to shelve its plans for a DRS rollout in October 2025, with supermarket bosses warning the system could cost almost £2bn a year to run, although the figures have been disputed by soft drinks bosses.
The Grocer exclusively revealed in June that the DDRS Alliance's Brecon trial, funded by suppliers Danone and Nestlé and involving supermarkets Aldi, Co-op and Morrisons, would see digital technology tested for the first time over a whole town.
Under the trial, people can claim 10p for every specially-marked bottle they recycle by scanning it with an app prior to either putting in bins at home or using mini-RVMs installed at retail locations, including Morrisons.
Duncan Midwood, founder of Circularity Solutions Ltd, which is spearheading the project, said the results from the trial so far showed the "overwhelming majority" choose to return their drink containers at home, suggesting plans for an "outdated back-to-retail model" should go back to the drawing board.
Midwood said the results of the trial also showed very high levels of compliance, with further investigations showing people taking part put their items in the correct bin.
The trial includes glass and cartons, although excludes alcoholic drinks and multipacks.
"There had been concerns about the compliance issue – basically whether consumers would do what they say they do after scanning the item – but we have inspected 400 bins and analysed the contents and the compliance is between 90%-95%, suggesting people do."
Around 1,300 people have taken part so far, out of 4,300 households in the town. Midwood said the take-up had been lower than expected but the data was richer than had been hoped for, with key insights having been obtained into how a DDRS system could work.
"Of course this is Brecon and the question is would something like this work as well in the middle of Manchester, for example," he added.
"But that is the whole point of this trial, and the key thing is it suggests people support a digital system. Of course this is without any of the mass publicity that would be in place were this a national launch."
The digital trial has attracted strong backing from the Welsh government, with first minister Mark Drakeford visiting the town last week and saying digital was an "important part" of its plans.
However, likes DRS itself, the digital version has already proven to be a political hornet's nest. Whilst it has been supported by some retailers and those keen to protect local authority collections from the possible impact of RVMs in supermarkets, it has been opposed by major soft drink companies.
The DDRS Alliance is organising a summit in Wales next month, with reprsentatives from Defra and the devolved governments attending, to discuss the results of the trial and set out future plans, with Midwood revealing it is already planning a larger trial.
"We are thinking of somewhere the scale of the Isle of Wight, although that is just an example of the sort of scale, rather than based on any firm plans as yet.
"We woud like to do it next year but realistically we are probably looking at Q1 2025."
However, like mainstream DRS, the digital system has rivals. Polytag recently carried out a trial with Ocado, rewarding over 20,000 customers with rewards in a 50-day period, using Ocado's own milk bottle labels, labelled on its production line.
The Brecon trial, meanwhile, has relied on tens of thousands of products being manually labelled with stickers, with Polytag warning of the cost of using too much manpower.
Polytag CEO Alice Rackley said it was "paramount" that a digital solution "avoids unnecessary costs, carbon emissions and the inconvenience of traditional RVMs".